Delta Speaker Assures Of Dividends Of Democracy To All Deltans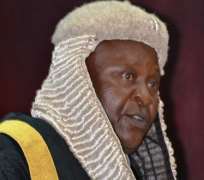 The Speaker of the Delta State House of Assembly (DTHA) Monday Igbuya, has recounted the achievements made through the year with regard to good lawmaking, representation and legislative oversight, saying the House accomplished a lot in 2016.
He also praised the officers and members of the state assembly for the speedy and constructive passage of Bills.
"The house has performed tremendously in terms of legislative oversight, lawmaking and the system of checks and balances" the Speaker said.
The Speaker stated this Thursday in his New Year message, where he charged political office holders to set new goals to quicken the pace of development in the country.
He also charged political and non-political leaders to stay on the straight path and work for the continued development of Nigeria.
The presiding officer of the Delta State House of Assembly urged the government at the centre to confront the real issues in the economy.
He assured the good people of Delta State and the generality of Nigerians of stronger economic growth in 2017.
Igbuya described Governor Ifeanyi Okowa as a man of integrity, "Governor Ifeanyi Okowa is dedicated to service. He will create more opportunities in 2017 for the populace. He will put in more effort to improve the living standard of the people"
He commended his colleagues for their support, advice and encouragement and thanked the workers of the assembly and the good people of Sapele for their tremendous support.
"We have taken off on the voyage of prosperity. We'll make democracy dividends reach all Deltans, ensure quick passage of the 2017 Appropriation Bill and work hard to create the conditions that make workers protest unnecessary".
"We'll continue to communicate with our people. We'll continue to receive expert and public input. We'll continue to make sure that government actions are transparent and accountable".
Ending the message, he said "I wish you all a happy and prosperous New Year".