Two Days After Publishing APC Article Against Pastor Adeboye, Nigerians Mock Sahara Reporters Over Attack On Fayose, Wike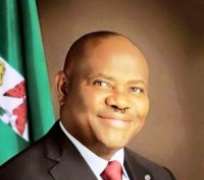 Two days after Sahara Reporters published an offensive article written by the All Progressives Congress (APC) in Ekiti State against the General Overseer of the Redeemed Christian Church of God (RCCG), Pastor Enoch Adejare Adeboye, Nigerians are now mocking the online news platform over its persistent attack on Ekiti State Governor, Mr Ayodele Fayose and his Rivers State counterpart, Nyesom Wike.
On December 27, Sahara Reporters, which is known as the propaganda platform of the APC had published an article titled; "Pastor Adeboye's Endorsement Of Gov. Ayo Fayose And Its Contradictions" purportedly written by a non-existing Pastor Julius Oluwafemi to attack on Pastor Adeboye and the RCCG.
Today, Sahara Reporters published what it called an exclusive audio leak of Governors Wike and Fayose mocking Nigerian Army over Rivers State rerun election. But the audio was only about Governor Fayose congratulating Governor Wike for standing firm to prevent the will of the people of Rivers State from being subverted by forces of the federal government.
Since the audio was published three hours ago, Nigerians have taken to the Facebook Page of Sahara Reporters to mock the online platform, with some even describing it as the number one terrorist organisation in Nigeria. More than 700 out of the 713 people who commented on Sahara Reporters Facebook Page as at 11:30am today mocked the online platform.
Here are some of the comments unedited: Emmanuel Osita: Shame on Sahara reporters...El rufai and his fulani men are busy killing innocent people in southern kaduna, and no report on that from you guys... Zainab Ibrahim: Please can you guys give us audio leak on how to tackle recession?? You guys are fast loosing your credibility frown emoticon: Sunday O. Francis: why oda media r looking for solutions for nigeria recession,here u're creating unimaginable sentiment dat would even fast track d breaking up of nigeria.i wonder if sahara owner n d entire staffs r educated at all or they're just bounce of almajeris Chimaobi: All Sahara reporters stop disgracing yourself. are you not seeing what is going on in Kaduna state? How many times have you condemned our President silence on southern Kaduna killings? 100 of sahara desert reporters will never stop IROKO TREE WIKE & FAYOSE. brown envelope journalism.
Ogunleye Bankole: Sahara Reporters, What happened in southern Kaduna, when governor said he paid terrorists, meaning that he knows them,but evil reporter kept mute. only fool will believe all your evil reports on wike and my governor oshokomole. Belema Stowe: Recording someone's private conversation is a criminal offense .Sahara reporters should be shut down and its owners locked up in jail Mc Eze: Leak d calls of Buhari n Judge Binta, buhari and amaechi and inec chairman.
Ajofe James Enabo: Sahara reporters are becoming no 1 terrorists in this country Ubong Jimmy: In democracy everyone can be mock especially those with criminal motivate, I support the governors if this can stop rigging. Anointed Jacob Osaro: The audio proved that Wike fought against rigging... Fayose said on the audio "we saw how they (police) were shooting everywhere, and Wike said "my brother, we had to stand firm"....
This is a proof that there was rigging by security operatives from abu... Usman Bello: I am not a fan of Fayose, and Wike is not significant in my life, but how is this news or important to anyone? There are far more serious issues on ground to report e.g the economy, food, security. Kufre Etuk Nonsense! Imagine your last line. So Wike and Fayose should't be closed to each other? You guys are bereft of good investigative ideas. Adomokhai Tosyn: Sahara u are disturbing urself.... y not tell us that of APC.... are u telling us that it only pdp that rig... u guys are so bias....... rubbish media house... u can expose that of kaduna killings... or u av not heard about it??? .... u are never professional in ur doings...... nonsenses. Olarewaju Ayodeji: Poor job, very poor job...you intended to hurt the image if these personalities but you have help in being the catalyst of them progress. Sowore...Ibaje eniyan...filling the rest.
Bayo Awogbemi: They are mercenaries, nurtured by despotic APC regime; a shame to all that is decent. Kemi Trump Flash: Se ori bobo Sowore yi ko ti daru bayiii? (Is this Sowore (Sahara Reporters publisher) not mad) Na question ooooo. Olawale George-Taylor: There is nothing like audio leak any where in the world. If this government has started bugging and tapping citizens telephone conversation, then this must be subject to Senate's approval and Attorney General's consent if it is legally right or not. Such technology is used all over the world for the purpose of fighting terrorism and not political opponents. Thank you Collins Cocodia:
Sahara reporter has fully taken over the media arm of the APC, since lie, lie Mohammed stopped talking. Shame on you guys. Esumai Ifeanyichukwu Pepe: When will Sahara reporters publish pmb and co, phone conversations or he doesn't make calls? This your new tool is really working. Apc led government must be paying a good sum. Collins Eze: I've said it before that Nigerians have decoded the tricks of sahara reporters and has relegated them to the junk side of journalism, shame on sahara destroyers.
Emmah Ephraim Emmah: This stupid sahara reporters have started with their stupid reports...even if it wine which I know it isn't why would you monitor a governors call. This is unruly and must be looked into cos your stepping over your boundaries Mayor Sam: Sahara pls we are fed up of these hogwash reports.....its far below level expected of ur level from ur fans.....pls save us this frivolities and face buz Umoh Joshua: Sahara reporters, may I join some other well-meaning Nigerians to remind you that you had since allowed yourself to be transformed from the once very vibrant dependable online media voice you once were, into an unrepentant agency of the ruling party nay some persons therein. Tony Amadi: It's Obvious they av been paid .
Degrading the credibility of journalism . Y only PDP Govs ? Ain't saying the phone calls was justifiable though. If we should start leaking audio to help the masses start leaking Buhari and Saraki and the others na Iyke Ufodiama: Sahara you guys are very stupid just imagine what you guys are doing, you went and record nonsense, well you can only deceive dos people that come from that contraption called Nigeria, I remember when you guys say that Nnamdi Kanu was arrested with gun, you guys are disgrace to humanity.
Charles J Charles: Always have a deep thought on issues, what is bad is bad what are they turning this country to because of election they are killing innocent people. May Almighty God help and strengthen this country where people can not judge rightly. Benedict Agochiche: This Sahara reporter are doing all they can just to rob this guys becos they give them sleepless night and probably see them in their dreams well my advice to this Sahara reporter that they should beg for forgiveness from this governor becose they will stand the test of time and who God has bless let no man cause.
Chima Ekezie: Sahara reporters gossip too much. Why do you hate this two great men. You can't change my mind. They are the best governor's so far... Gideon Eloho: It's now clear that Sahara Report is no more a media House but a part of the Buhari Government that's set to opposition on all fronts. What has happened to the reports on the killing in southern Kaduna where Fulani Herdsmen are killing innocent people,...See more Peter Odigie: It's stupidity that made the idiot present the audio as if it's a secret.
This two radical Governors have been mocking both the Army and other security agents openly without fear of favour for their insensitivity in handling national issues. Nonsense. Eustace Walter Oc Ihenacho: Sahara Reporters refuse to be objective , unbiased and professional in their reporting , yiou sahara reporters has lost ur Credibility due to ur corrupt nature of news report, you refuse to report southern kaduna killing only busy trying to silent Gov Wike and Fayose, The mess in Imo state by Owelle Rochas Okorocha doesn't make news .Useless media outfit .Sahara Reporters shame of Nigerian media Sime Otaji: SAHARA REPORTERS AGAIN! Very soon the media (print & electronic), especially the social media, in Nigeria will run with this story thereby effectively CHANGING or deflecting discourse on burning national issues like the marauding FULANI "KILLING HERDSMEN, who are bent on wiping out Christians and non-Muslims in the country with deafening SILENCE from the Federal Government. There is also the pathetic issue of children dying in their numbers as a result of FAMINE in the north-east carried by the BBC a few days ago. There are others issues like the current RECESSION, NIGER DELTA, IPOB, etc.
The intriguing thing about SAHARA REPORTERS is that these useless stories are well-timed with precision! Odom Stanley Freeyz: Why is this Sahara reporters always attacking the pdp politicians what has been happening in southern kaduna you bastards didn't report that God will just your chief editor and every one of you Chigozie Christian Nduka: At this point. I must say Sahara in collaboration with the Zoo Government, is very stupid.
The Country is burning, and virtually in a war mode. And this guys are still concocting and manufacturing audio of Governor Nyesom Wike , in the hope of destroying him politically. its aa pity, Wike already won. Michael Jesse: They posted it to cause dissension. You are busy insulting fellow citizens from all parts of the country. I wonder who is more stupid. Fred Kachi: Why leaked audio?
We prefer video, if they want to justify their claim. Gov wike is in possession of the video where "assistant commissioner of police n head of 'SARS' both from rivers state respectively were caught rigging in favor of A.P.C.. it's high time; we all know sahara reporter as a sectional media house. Southern kaduna is boiling, the heardsmen sponsored by Gov el-rufai are busy killing Christian and invading their their farm lands. Instead of sahara reporters to do the needful; they are busy pervading false news about river's re-run.
Rivers state belongs to P.D.P n P.D.P. they will remain; they federal agencies shld turn the satellite they beam at rivers state elsewhere. Sahara reporter's media house of deceit, bigotry, sectionalism. Ndamati Precious: How can Sahara reporters be breaching confidentiality? My phone calls are personal to me therefore leaking audio calls is criminal. Report more on the so called military victory in sambisa.
Why was the camp empty wen the soldiers got there? Anthony Mython Chijioke: Does this mean that secure encryption of individual/conference calls is no longer granted in Nigeria. Even in the United States you will need the presidents support to decrypt a conversation Dayö Timöthy Ajibade: Even if Sahara Reporters decide to block everybody insulting them here, they will go and open another account just to follow them. When you hate something but you can't do without it, it's another level of obsession.
Regina Michael: But come to think of it ohh who sahara reporters don epp nii? We are tired of all this lies please you guys should try something new trying to rubhish wike and fayose is just so childish of you guys report on some important things Umeh Chummy: Sahara Reporters you are very stupid to invade peoples privacy and be proud enough to tell us. What Kind of stupid government do we have in this country.
This stupid media should be banned from our cyberspace but I know they can't be doing this dirty job without the connivance of those in the presidency. Rubbish! Ekomobong Bassey Asada: Oooo how I loved and cherished this two great men ....no amount of blackmails will stop me from loving them. Sahara useless ur brothers are killing southern kd people and your number two terrorist elrufia said openly said that he paid them to kill all Christian over the and I say to the people of kataf kill anything killable across your path .