Berlin terror: Germany arrests Tunisian man with links to dead truck attacker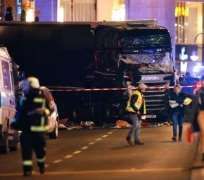 A 40-year-old Tunisian man has been detained in Berlin in connection with last week's attack on a Christmas market, German state prosecutors say.
They say his number was found on the phone of Anis Amri, who killed 12 people by hijacking a lorry and ramming it through the stalls.
Police raided the home and workplace of the man in the Tempelhof area of Berlin, German media report.
Officials have until Thursday to decide whether to formally arrest him.
Amri was shot dead by police in Milan early last Friday, four days on from the attack, after the 24-year-old Tunisian opened fire and injured an officer during a routine check.
Meanwhile, police in the the Netherlands are investigating whether Amri travelled there immediately after the market attack after an unused Dutch Sim card was found in his backpack.
They believe he was spotted on CCTV in Nijmegen station and was probably handed the Sim card there.
From Nijmegen, it it thought he took a six-hour bus trip Lyon Party-Dieu station in France – from where he apparently got a train to Milan
Authorities across Europe are trying to piece together Amri's movements after the attack
The Sim card found in his backpack was issued between 20 and 22 December in one of three possible Dutch cities – Breda, Zwolle and Nijmegen, Italian media reported.
It was widely reported after the attack that German police had searched a refugee centre in Emmerich, just across the border at Nijmegen.
That Amri was able to travel from Berlin while subject to a European arrest warrant has raised security questions. – BBC.