Delta to be the economic hub of South/South - Okowa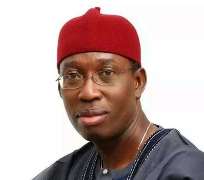 Senator Ifeanyi Okowa, the governor of Delta State has emphasised the resolve of his administration to attract investors so as to engage the teeming youths into productive ventures and make the state, the economic hub of the south/south zone.
The governor made this pledge recently at Ejeme- Aniogor in Aniocha Local Government area at a public lecture of the Enuani Democratic League.
The governor said that his administration was religiously and vigorously pursuing its `smart agenda` with emphasis on creating a fertile environment for investors and to tap into the energies of the youths.
The governor who was represented by the Delta State Information Commissioner, Mr Patrick Ukah observed that his administration was very much aware of the economic challenges facing the nation, adding that his government was working round the clock to make the conditions easier for Deltans and all residents in the state.
Said the governor: `Our vision is to achieve sustainable development by building the necessary infrastructures and creating the conducive atmosphere that would encourage investments and the meaningful engagement of our people especially the youths to whom the future really belongs. Our economic development approach aims at integrating the state through good network of roads that link communities and cities across the state. This will include the building of a befitting capital. `
The governor called on all Deltans to encourage investors and also contribute their quota in the task of developing the state, adding that the government will continue to encourage and assist genuine investors who are out to serve as agents of positive social and economic change in all the communities of the state.
Earlier in his welcome address, the president of the Enuani Democratic League, Hon Collins Iwebunor said that the woes of the country are consequent of increase of graduates without the required skills in the employment market.
He therefore called for a change in the educational curriculum so that graduates would be jobs providers instead of job seekers.
He had special words for the state governor, hoping that the government `smart agenda` would produce people that would employ others in the more productive sector.