Okowa Raises Alarm Over Activities Of Vandals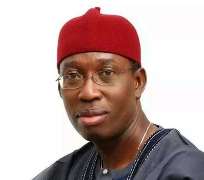 Delta state governor Dr. Ifeanyi Okowa has raise the alarm that crude oil theft and vandalism has impacted negatively on the environment, economy and health of the surrounding communities in the Niger Delta regions.
Okowa also said that the activities of vandals has impacted adversely on the resources of the federal and state government and power generation in the country.
The governor who spoke when he received on courtesy visit, Rear Admiral Opoche Suleiman, Commander, Joint Task Force (JTF) Operation Delta Safe and his team in Asaba said that crude oil theft and pipeline vandalism affects the economy, environment of the surrounding communities, the federal and state government harmfully.
The Governor however assured the security agencies of government's support in tackling criminality and pipeline vandalism.
He said, "Since the inception of your Operation Safe, a lot of work have been done, in Delta State we have worked with your sector commander and other security agencies to keep the peace and make the state safe. I want to assure you of the state government support to carry out your activities in the Niger Delta region"
The Governor stressed that the partnership and synergy among security agencies in the state have yielded desired result in the maintenance of peace and security.
While calling for constant consultation between government and the Operation Delta Safe Outfit, the governor advocated for the harnessing of the civilian population in the Niger Delta region in information gathering.
Earlier, Rear Admiral Suleiman said that they were in Asaba to consult with Governor Okowa and seek for support for the achievement of the mandate of the Operation Delta Safe Outfit.
He said that in achieving peace the Operation Delta Safe require the political support in the protection of the oil and gas infrastructure and prevent other criminality in the region".