Nigerian leaders can't hand over to next generation – Okorocha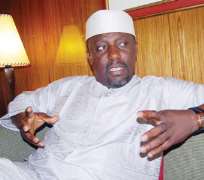 Governor Rochas Okorocha of Imo state, yesterday said young people ought to be groomed well before handing over leadership to them.
He stated this in Owerri, as part of his Christmas goodwill message for the people of the state, through his Chief Press Secretary, Mr. Sam Onwuemeodor.
The release gave some reasons why the governor made the statement, 'what Nigerians and of course the leaders in particular need to do now, is to unite and begin to build a country of our collective dreams and aspirations.'
He added that, 'the leaders cannot afford to hand over to the next generation what we have at the moment as a nation, in which ethnicity, religious bigotry and zoning of political offices are still the orders of the day.'
It was his view that, 'Nigerians must endeavour to hand over to the next generation a united and prosperous nation, all the ethnic and religious groups can be proud of.'
He however, called on the Nigerians not to find it difficult to accept that the current recession in the country was only a 'national challenge.'
'Nigerians especially the leaders should appreciate themselves and see the current recession as a national challenge.'
'Christians in the state in particular to pray more than they had never done before, for the good of the state and her people' Okorocha said.