Xmas : Sink Your Differences Deputy Whip Of Senate Tells Nigerians.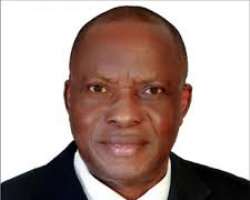 The Deputy Chief Whip of the Senate, Senator Francis Alimikhena has harped on love among all Nigerians in this season of love and celebration. Senator Alimikhena who expressed shock over the fresh attacks in Southern Kaduna on Xmas Eve, appealed to those fanning the crisis to sink their differences irrespective of their ethnic, religious or political grieviances and interest. He implored those involved to make peace and religious harmony the cornerstone of their relationship with one another.
Senator Francis Alimikhena representing Edo North also enjoined Christians to remain steadfast and committed to the ideals of Christmas, He stressed that "We must all sink our differences in the spirit of the yuletide in order to achieve the core restoration value of peaceful co-existence that can accord the proper meaning of the celebration of the birth of Jesus Christ"
In a goodwill message by his Personal Assistant Mr. Benjamin Atu, Senator Alimikhena admonished persons of all Faith to be their brother's keepers and shun all forms of Negative acts that could jeopardize the good efforts of government in providing the dividends of democracy to Nigerians.
While thanking Christians for their prayers for the peace and stability of the Nation, the Deputy whip Of the Senate said " the leadership of the nation will continue to count on the prayers, support and cooperation of all believers as we continue to build on previous achievements as a government.
The statement commended Nigerians for their zeal and patience with the federal government in the fight against corruption which has affected the economy stability of the nation. According to Senator Alimikhena, "The process may be painstaking, it shall soon be over. " 'The hardship all over the place will soon be a thing of the past and all Nigerians will be better for it," the statement added.