Christmas traedy: Sergeant, civilian killed as building in Police College, Ikeja collapses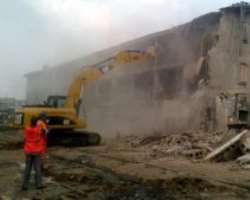 Two persons have died in the partial building collapse that occurred at the Police College in Ikeja on  Sunday morning.
Reports indicate that one of deceased persons,who weree both male, is a police sergeant.
The building s toilet and bathroom reportedly caved in what could be described as a Christmas Day tragedy
An official of the Lagos State Emergency Management Agency said rescue operations were ongoing at the college.
A report in  PREMIUM TIMES  cites Yakubu Suleiman, the south-west zonal coordinator of the National Emergency
Management Authority, who spoke anonymously  at the scene of the incident while witnessing  the demolition of the rest of the building by officers of the agency.
"We have understanding that the building has failed integrity tests, twice," he was quoted to hae sidd.
Junior police officers across Nigeria who live in the various barracks usually live in
terrible conditions in decrepit, unmaintained buildings.
Mr. Suleiman disclosed that victims of the building collapse include a police officer and the officer's relative.
A part of the building, known as W block, collapsed at about 4:00 a.m. in the early hours of Sunday.
Bodies of the victims have since been deposited at the mortuary.