Obasanjo had no hand whatsoever in my decision to concede defeat in 2015: Goodluck Jonathan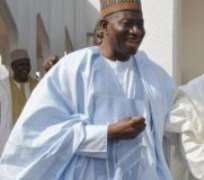 Former President, Dr. Goodluck Jonathan has said former President Olusegun Obasanjo had no hands whatsoever in decision to concede defeat after 2015 general electioos.
Jonathan  through his  Special Adviser on Media, Mr. Ikechukwu Eze,  dismissed as "baseless and typically fictitious" the claim by Mr. Kenny Martins that it was Obasanjo who  persuaded to concede defeat.
Kenny Martins of the Police Equipment Foundation had faulted Jonathan's claim that he was not pressured by anybody to concede to President Muhammadu Buhari, stressing that the action was facilitated by the intervention of former President Olusegun Obasanjo.
In a statement  on Saturday in Abuja,  Eze deprecated t Mr. Martins' comments were mischievous for also dragging the General Overseer of the Redeemed Christian Church of God, Pastor Enoch Adeboye and Bishop David Oyedepo, Winners Chapel General Overseer into the matter, just because they attended a meeting between Chief Obasanjo and Dr. Jonathan for reconciliatory purposes.
The statement reads,  "Our attention has been drawn to a statement by one Mr Kenny Martins where he faulted the former President Goodluck Jonathan's recent assertion that he conceded defeat after the last Presidential election without anybody's prompting, because he believed "it was the right thing to do."
"In opting to disagree with Jonathan, Martins claimed that the former President was indeed persuaded to concede defeat at a meeting where ex-President Olusegun Obasanjo was supposed to have told Jonathan "if you win, I will support you; but for God's sake, if you lose, just go quietly."
"We won't think twice before dismissing this claim as baseless and typically fictitious. We are also dismayed by the fact that Martins could be so indecent to deploy repulsive expletives by unabashedly accusing the former President of 'lying.' Without seeking to join issues with such a man, we wish to however make the following clarifications: The former President's visit to Obasanjo at the height of the campaign for the 2015 Presidential elections was highly publicized. It was a visit undertaken by Jonathan to seek his predecessor's support for his re-election bid.
"We wish to place it on record that the issue of 'losing and conceding defeat' was neither mentioned nor discussed at the meeting. It is instructive that Martins admitted that he was not at the meeting, as such, he has already conceded that it is not his place to determine what was discussed. We deplore the mischief of needlessly dragging in the names of the General Overseer of the Redeemed Christian Church of God, Pastor Enoch Adeboye and Bishop David Oyedepo, Winners Chapel General Overseer, simply because they were in attendance.
"We can however confirm that the two respected men of God were at the meeting, to the extent that they believed that Obasanjo and his political godson Jonathan, who were then having some differences, should be reconciled for the good of the nation. Again, we repeat that at no time during the meeting did the issue of conceding defeat feature in the discussions, a fact that the men of God can confirm.
"We advise that people with credibility issues should search for relevance elsewhere, rather than seek unearned validation by unduly attaching themselves to obvious good intentions of the former president."
Martins ha in an interview with The Sun on Saturday narrated how the then chairman of Federal Road Management Agency, (FERMA), Engineer Jide Adeniyi, helped reach Jonathan for a peace meeting with Obasanjo where an agreement was reached.
According to Martins, "A date was fixed and the meeting held. Obasanjo, because of his personal relationship with the General Overseer of the Redeemed Christian Church of God, Pastor Enoch Adeboye, invited him to come for the meeting.
"Jonathan, surprisingly, emerged at the meeting with Bishop David Oyedepo, Winners Chapel General Overseer. I think there was also one person, but I can't remember who it was. So, the five of them now went into a meeting."
Martins said Jonathan was made to promise at the meeting that he would leave power peacefully if he didn't come out victorious.
"It is only God who knows why Obasanjo should bring Adeboye, and why Jonathan, without consulting Obasanjo, should bring Oyedepo.
"You can see that at that meeting, God was seated where the decision was brokered that whoever loses should go.
"It was only God who did it for Nigeria with the help of these men mentioned above, so it was therefore easy for Jonathan to concede defeat," Martins added.