Gov. Ugwuanyi swears-in substantive Enugu Chief Judge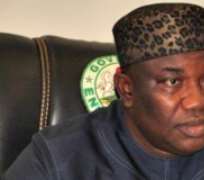 Enugu State governor, Rt. Hon. Ifeanyi Ugwuanyi, yesterday swore-in Justice Ngozi Priscilla Emehelu as the new chief judge of Enugu State.
The appointment of Justice Emehelu who had been on acting capacity since October this year, was earlier confirmed by the Enugu State House of Assembly.
The swearing in of the chief judge was preceded by an administration of an oath by the Solicitor-general of the state, Victor Emeribe (Esq.)
Before her inauguration, Governor Ugwuanyi outlined the circumstances that led to her appointment, noting that this followed the suspension of the former Chief Judge of the state, retired Justice Innocent Umezulike by the Nigerian Judicial Council.
Acknowledging her impressive track records that necessitated her appointment and confirmation, Ugwuanyi pointed out that it is instructive she is the first female chief judge in the state.
'On behalf of government and the people of Enugu state, I most sincerely and happily congratulate Honourable Justice Emehelu on her appointment and wish her success in her assignment.'
In her response, Justice Emehelu described her appointment as an act of God and thanked Governor Ugwuanyi for the opportunity given to her to serve the state in that capacity.
She pledged to discharge her duties creditably and with the fear of God while urging the bar and bench to assist her in that direction.