IGP Ogbonna Onovo Speaks on: South East Security Challenges and Solution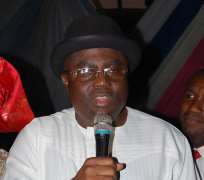 The South East Economic and Security summit yesterday in Enugu brainstormed on factors that are dragging
back the economic prosperity of the region. Prominent sons and daughters of the region were in attendace. The former President of Nigeria, President Olusegun Obasanjo was also in attendance.
The first South East Inspector General of Police, IGP. Ogbonna Onovo (rtd.) analysed the security situation in the region and recommended solution to the challenges in a paper he presented at the ocassion. According to him, development can thrive better in a secured environment. Below is the paper:
Introduction: Security is an imperative essence of every state and the primary function of every government. The legitimacy and authority of the state over the people can only be sustained to the extent it can guarantee the security of life and property of her citizens, as well as other residents within the system. Safety, security and public order, therefore, are at the heart of the effectiveness of every responsible government and society. Security encompasses peace and stability, good governance, dealing with crime and disorder, disaster management, regional and international relations and many other issues that touch on the well-being of citizens such as justice, the rule of law, human rights economic emancipation and democracy. It is, therefore, my considered opinion that the essence of this lecture is for the Southeast region of the country to examine the peculiar security challenges and the rate of economic development in the region aimed at analysing how both of them interface and interlink to impact on each other, and affect governance and development in the region. Accordingly, in the course of this lecture, I shall appraise known and emerging security challenges in the region, juxtaposing them in the place of governance in security management and thereafter proffer recommendations for a more secured southeast for meaningful and sustainable economic development. It is my hope that my expositions on this subject matter which is going to be drawn basically from my knowledge as a retired Police Officer will awaken your consciousness to the dire situation on ground.
THE INEXTRICABLE LINK BETWEEN SECURITY AND ECONOMIC DEVELOPMENT
The link between security and economic development has been established in a modern democracy as inextricable, where one complements the other. This is inferred from the fact that no meaningful development can take place where insecurity thrives; the same way insecurity flourishes where there is no serious economic development. Irrespective of the varying perspective to the concept of security as multifaceted phenomenon based on people's scholarly inclination, professional leanings and ideological stance; security represents a universal good that every society strive to achieve and sustain. It is the absence of fear and removal of threats that enhances the peace and stability of a society. In the words of Kofi Annan, 'we will not enjoy security without development, we will not enjoy development without security, and we will not enjoy either without respect for human rights'. A report of the United Nations Office on Drug and Crime titled; "Crime and Development in Africa" released in June, 2005, brings to the fore how crime undermines economic development. The report maintained that;
Crime erodes Africa's social and human capital;
Crime drives business away from Africa,
Crime undermines the ability of the state to promote development:
In the same vein, World Bank report argues, that "Crime increases the costs of business, whether through the direct loss of goods or the costs of taking precautions such as hiring security guards, building fences or installing alarm systems. In the extreme, foreign firms will decline to invest, and domestic ones will flee the country for a more peaceful locale" It is to be noted that, legitimacy and authority of the State over the people can only be sustained to the extent it can guarantee the security of life and property of the citizens.
The prevalent security threats in the South East of Nigeria today include the following.
(1) Proliferation of small arms and light weapons
(2) Kidnappings/Cultism/ Assassinations
(3) Stealing/Armed robbery/car snatching
(4) Financial Fraud (419)
(5) Corruption in high and low places/unemployment/poverty
(6) Lack of integrity/ethical standards/ Adulteration of products
(7) Menace of non-state actors -
(8) Cattle Herders/ Farmers Conflict
(9) Chieftaincy Disputes/ Boundary Disputes/ Non-indigene vs indigene squabbles (Communal Conflicts)
(10) Drug Trafficking/ Human Trafficking/Emergence of Baby Factories
(1) Proliferation of small arms and light weapons
As we speak, the number of illegal arms in the South East remains unknown. It's ready availability contributed significantly to the outburst of violence. The weapon of popular choice is the AK 47, numerous other types of small arms including the Berretta 0.9 mm, light machine guns, pump action shot guns, etc. Some of these could be purchased for as little as N50,000.00 while ammunitions go for 500 naira each depending on the make.
Federal govt. established a committee in 2004 to seize and destroy illegal arms. They carried out various destructions of SALW in Plateau State, Rivers and Bayelsa States where insurgency and ethnic conflagrations were prevalent. Some of these arms found their way to the South East. None was carried out in the South East. Also another committee established by Igbo business men, headed by former Presidential aspirant, Osita Okereke attempted to mop up illegal arms in the South East but were largely ineffectual. The Federal and State govts. ought to put in more efforts in the venture. Very stiff penal sanctions are required to curb the menace.
(2) Kidnappings/Cultism/ Assassinations
One may not be able to trace the very day that kidnapping started in Nigeria, but the crime of kidnapping gained prominence in the sociology of crime in our country when the Niger Delta region 'militants' adopted the criminal strategy of kidnapping expatriate oil workers in furtherance of their campaign for the emancipation of their region. Speedily, the act of kidnapping was embraced by other criminal elements in the South East, who criminalized and escalated the strategy to the extent that toddlers and even corpses were kidnapped for ransom. Of course, the criminal elements in the southeast, who had embraced armed robbery as quickest way of making big money as their nefarious attacks were mostly on banks and bullion vans, keyed into kidnapping as the easiest and surest way of making money with less risk. The act of kidnapping overtime escalated in all the states of southeast, with Anambra and Imo states topping the chart. Though kidnapping as at today has been reduced through the joint and conscious efforts of state governments and security agencies, but till date, there are still pockets of kidnapping being recorded in the region. Cult memberships, their methods of operation and initiation rites, which involves oaths of allegiance, remains secret. Govt. should revisit the secret cult law and improve on it. A committee should be inaugurated to ensure elimination of cultism in the South East. Cultism has led to the emergence of a group of assassins referred to as "unknown gunmen" who routinely assassinate their victims or settle other scores in same manner. Recently, beheading of their target has become the norm.
(3) Stealing/Armed robbery/car snatching
Armed robbery could be said to have gained prominence in Nigeria after the civil war, where it was discovered that most arms deployed in waging the war were not returned after cessation of hostilities. It was believed that these arms were employed by undesirable elements in the society to commit armed robbery and other violent crimes. Though armed robbery in the 60s and 70s was crude and loosely organised, but today it has become more organized and deadlier, unleashed mostly on banks and cash-in-transit vehicles. There is no doubt that kidnapping has overtaken this act of criminality in the southeast, but armed robbery is still a menace and a major challenge to security management and economic development in the south east. The same applies to stealing and car snatching cases.
(4) Financial Fraud (419)
Through commendable efforts of the EFCC, this menace has declined to appreciable levels, yet it can scare away foreign investors. The South East can do well economically without fraudsters on the prowl. This phenomenon has given the South Easterners a bad image locally and internationally. The Police and other Security agencies and all patriotic citizens should tackle the menace by identifying such fraudsters, seizing their illicit gains/properties and prosecuting them.
(5) Corruption in high and low places/unemployment/poverty
One would want to exhort our politicians that while seeking political power or office; they should endeavour to play the game of politics by the rules, demonstrate spirit of sportsmanship, elevate politics beyond ethnicity and self aggrandizement, and ensure fulfilment of promises made during electioneering campaigns. This will reduce acrimonies and violence associated with politics which often times create tensions and insecurity in the society. The non implementation of the agreed 3 Rs (Reconciliation, Reconstruction and Rehabilitation) after the civil war, worsened the plight of the citizens of the South East. It retarded the economic growth of the South East exacerbated the poverty situation, created unemployment and lack of window of opportunity and completely dislocated social and political consciousness of the people. The aftermath was the emergence of non state actors like Massob, Ipob, Bakasi and constant cries of marginalization.
(6) Lack of integrity/ethical standards/ Adulteration of products
The people of the South East should build trust between themselves and other Nigerians, including foreign investors. The present belief that South East business men are not to be trusted, that they engage in underhand deals and can do anything for money, does not augur well with us as a people. Other tribes in Nigeria hardly trust us and rarely come to the South East to establish business. Efforts should be made to erase this negative image. For example, the adulteration of consumable and non consumable products remain persistent in the South East region. Sub-standard building material products like iron rods, electrical cables and other wares often cause building collapse and fire. Fake pharmaceutical products have killed many citizens over the years.
(7) Menace of non-state actors - Some unscrupulous persons engage in vandalization of oil Pipelines/ Stealing and Damaging of govt. properties viz transformers, electric cables (underground & overhead). Some non-state actors in the South East region from Bakasi Boys to Massob/IPOB/ who should ensure security of life and property just like the O.P.C in the South West and A.P.C in the North, have remained ineffectual, rather their activities lead to the killing of our youths and destruction of property. Any action inimical to the safety and well being of our citizenry should be avoided.
(8) Cattle Herders/ Farmers Conflict
Herdsmen/farmers clashes are very recent criminal phenomenon in the south east. Time was when herdsmen and farmers co-habited cordially, and their misunderstanding well managed and settled at community levels, that time is history. Today, there is growing and sustained animosity between the two groups, and seeds of discord and circle of violence have become a defining characterisation of conflict resolution between farmers and herdsmen in the region. The incidents of Nimbo community in Enugu state readily come to mind as an example of how dastardly and gruesome an unresolved conflict between farmers and herdsmen could be. This indeed is an emerging security challenge in the south east.
(9) Chieftaincy Disputes/ Boundary Disputes/ Non-indigene vs indigene squabbles (Communal Conflicts)
The cases of Chieftaincy disputes, boundary disputes, communal conflicts and non-indigene vs indigene squabbles have long been established in the South East region. Examples are in Ebonyi State, Ezza versus Ezillo that took so many lives and almost crippled the State and rendered Enugu - Abakaliki High way impassable to commuters. Another example is Aguleri and Umuleri, Awka and Amawbia in Anambra State. The same applies to Enugu, Abia and Imo States. The Chieftaincy tussles in most autonomous communities have turned violent leading to loss of lives and property. It is a shame that today in some communities in the South East, some citizens are regarded as non indigenes or settlers and the consequences often become security issues.
(10) Drug Trafficking/ Human Trafficking/Emergence of Baby Factories
Drug trafficking has given the South Easterners a terrible image locally and internationally. Most of the victims of executions in Malaysia and Indonesia are from the South East of Nigeria. Every time an Ethiopian Airline plane lands at Enugu, it conveys at least two corpses of drug couriers. Most South Eastern cities are drug infested, have high level of crimes which end up in deaths. NDLEA and other security agencies in the zone should increase their efforts. The same applies to human trafficking and emergence of baby -factories in the South East. If this is not nipped in the bud, the case of Edo State will be a child's play in comparison to what is happening in the South East.
RECOMMENDATIONS
Having identified the key security challenges in south east and the place of governance in security management for meaningful economic development, the following recommendations are proffered for enhanced security provision in the region which shall provide veritable platform for economic prosperity and sustainable development.
(1) ROLE OF SECURITY AGENCIES:INTELLIGENCE LED-POLICING:
This is based on the view that "good quality" intelligence is the life blood of policing; pro-active investigation includes the systematic analysis of records targeted suspects movements during planning of criminal activities, their financial dealings and associate with other suspected offenders.
Although human intelligence sources remain central, new technologies are also needed, including the interception of communication, planting of listening devices, video surveillance and tracing-tracking devices.
(2) COMMUNITY POLICING EFFORTS: The Police Community Relations Committee at the State levels should be resuscitated while Community policing efforts should be re-energized in order to build trust between the Community and the Police. If properly articulated, Community Policing can eliminate the recurrent disputes and criminal activities which have become prevalent in the local communities - viz
(i) Indigene vs Settler/Non indigene
(ii) Chieftaincy disputes
(iii) Boundary Disputes
(iv) Vandalization of pipelines and other govt. structures.
(3) PRIVATE SECURITY INDUSTRY
This industry needs to be expanded. It's increased involvement
in the policing of public space has become apparent. They can be seen in private companies, homes, universities, secondary schools and in different other business premises. Presently, they are in great demand and are securing contracts for duties traditionally meant for the police.
(4) GOOD GOVERNANCE: Government at all levels must strive through good policies and programmes to impact positively on the lives of the people. This will reduce indignation, odium and frustration on the part of the people, often vented in the form of violent demonstration against government and its agencies, and sabotage of public assets and facilities which negatively impact on economic development and growth. Our various govts. should shun corruption at all levels, rather improve on poverty alleviation measures that will enhance the standards of living of the populace. Job creation for the teaming unemployed youths must be embraced and opportunities for a better life for all maximized.
(5) CIVILIZED POLITICAL CONDUCT: One would want to exhort our politicians that while seeking political power or office; they should endeavour to play the game of politics by the rules, demonstrate spirit of sportsmanship, elevate politics beyond ethnicity and self aggrandizement, and ensure fulfilment of promises made during electioneering campaigns. This will reduce acrimonies and violence associated with politics which often times create tensions and insecurity in the society.
(6) RE-ESTABLISHING OLD BONDS OF COMMUNAL RELATIONSHIP: Once in the past, our society was very peaceful. It was marked by extensive commerce across boundaries and communities. Inter-tribal marriages, fellowship, affinity and cordiality blossomed. The spirit of good neighbourliness was high, as we demonstrate that we were brothers' keepers. Suddenly, these bonds of relationship have snapped, and today, we are solely faced with incessant communal and religious crises. We must therefore have a rethink, and from a sense of nostalgia, work determinedly to recapture this glorious past that fostered peaceful co-existence in the time past. Martin Luther King Jnr. succinctly puts it, "the world is changing, and anyone who thinks he can live alone is sleeping through a revolution…we must learn to live together as brothers or we will perish together as fools."
(7) THE MASS MEDIA: The media, electronic and print should work to keep at the lowest harmless level, the inherent tension in the relationship between government and the people. The press is, therefore, enjoined to balance their reports and avoid unnecessary sensationalism which will only succeed in over-heating the polity and causing disaffection and distrust between the people and the government.
(8) THE GENERAL PUBLIC: A vigilant and supportive public will help achieve economic prosperity and enhanced security in the society. This could be achieved by assisting law enforcement agencies with useful information on criminals and their activities in the society; and participating actively in the security of their environment through neighbourhood watch, PCRC and vigilante activities, and by so doing the members of the public will be creating a better atmosphere for every citizen to go about his lawful business, thereby creating room for economic advancement and sustainable development in the south east. It is recommended that all business premises, factories, petrol stations, churches should have real time surveillance cameras.
(9) PROVISION OF INFRASTRUCTURE: The dearth of infrastructure and public amenities could be seen in virtually all the states of southeast. Governments at all levels are encouraged to evolve and implement people-oriented policies that will go a long way to win the confidence of the people and reduce the aggression directed at the government functionaries and government facilities.
(10) PROVISION OF EMPLOYMENT OPPORTUNITIES: The lack of employment opportunities in the country has contributed in no small measure at predisposing our youths to criminal enterprise and easy recruitment to political violence. Governments are, therefore, encouraged to create jobs as a way of gainfully employing the teeming populace and dissuading them from engaging in criminal enterprise.
(11) STRENGTHENING OF NEIGHBOURHOOD WATCH AND COMMUNITY-BASED VIGILANTE GROUPS: The neighbourhood watch and community-based vigilante groups have proved to be an effective layer of security at the local levels. This is inferred from the fact that the people in the community know themselves, the trouble makers as well as alien and
suspicious faces. A well organized and structured vigilante groups will go a long way in protecting our communities and availing the security agencies with criminal intelligence that will enhance security management in the region.
(12) STRENGTHENING OF TRADITIONAL INSTITUTIONS: The traditional institution as a security architecture in region has been seriously neglected. The need, therefore, to strengthen the role and place of traditional institutions in the security management of south east cannot be over-emphasized in view of the sophistication of criminality in the states of the region. There is no doubt that some cases that escalated into serious conflicts and violence in the society could have been managed and resolved amicably if the traditional structures were adequately strengthen and deployed at community levels of governance.
(13) ESTABLISHMENT OF MULTI-ETHNIC AND MULTI-RELIGIOUS FARMERS/HERDSMEN COMMITTEE: The emerging threat of farmers/herdsmen clashes must be cautiously and professional handled as it has combustible elements that if not well managed, could draw the country into a cycle of violence where attacks and reprisals will become the order of the day. The Anambra option has proved to be a better strategy for management of farmers/herdsmen conflict. Anambra state had set up an inter-religious and inter-ethnic committee with the Commissioner of Police as the chairman to superintend and amicably resolve complaints and cases between the two groups before escalation of conflicts that could lead to clashes. This of course worked in the state and still working, and other states of the region are encouraged to embrace and adopt same strategy which is a robust and effective way of managing security in the southeast.
CONCLUSION
The quest for economic development, through adequate provision of security and sustainable security through economic development cannot be overemphasized in the south east region. The prospects of a prosperous south east can only be achieved, if government at all levels rededicate themselves to statutory responsibilities to the people by providing employment opportunities for the teeming populace, provision of basic and social infrastructure in the society and strengthening of traditional institutions in the management of security and conflict resolution at community levels. We are all implored to note that no meaningful development can take place in the absence of security. Though security is imperative of government, but it requires the collective efforts, support, collaboration and understanding to achieve a secured region that is safe for investment and habitation.
Thanks and God bless you all.
References:
(1) Alice Hills, (2002) Policing Africa: Internal Security and Limits of Libralization. Lynne Rienner Publishers, Inc; London
(2) Crime Statistics, (2015). Zone 9 Police Headquarters, Umuahia
(3) Daron Acemoglu and James A Robinson, (2012) Crown Publishing Group, New York
(4) J.N.C. Hice, (2012). Nigeria Since Independence: Forever Fragile; Palgrave
(5) Robert Mandel, (1994). The changing Face of National Security,
Greenwood Press, USA.
(6) Roger G. Dunham and Geoffrey P. Alpert, (2010) Critical Issues In Policing: Contemporary Readings; Waveland Press, Inc.
(7) UNDOG Report, (2005). Crime and Development in Africa