NIGER STATE HOUSE OF ASSEMBLY MOTIVATES PARTY LEADER
DONATES CAR TO ZONE B PARTY LEADER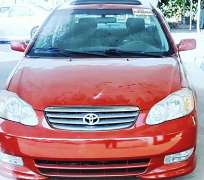 Legislators from Zone 'B' in the Niger State House of Assembly has
Pledged to ensure harmonious and good working relationship with
relevant Stakeholders of the All Progressive Congress at all levels of the
State, for Peace, Progress and Prosperity of the party in the Zone and the State at large.
Speaker of the House of Assembly Rt. Hon. Marafa Ahmed Guni, disclosed this at the formal Presentation of a brand TOYOTA COROLLA S Model Car to the zone 'B' Chairman of the All Progressive Congress in the State, Alh. Mohammed Sadiq Abubakar, which took place at the premises of the Assembly Complex, on behalf of the Eight – Legislators from the zone, which Comprises of Chanchaga, Bosso Rafi, Paikoro, Gurara, Tafa, Munya and Shiroro Constituencies in the State, respectively.
According to the Speaker, the donation of the vehicle was to serve as a mark of respect and loyalty to their Zonal Party Leader and to provide desired logistics and appreciation to the visionary leadership qualities of the party Chieftain in the discharging his onerous engagements in the Zone while assuring him of their unflinching loyalty, dedication for the growth and development of the zone.
He also assured other party officials and their electorates at all levels, for similar gesture and general good governance of their respective Constituencies through positive, productive and pro-masses representation and also to partner with other arms of the State Government, in the provision of more dividends of democracy at all levels.
The Speaker appealed for Continuous Support, Prayers and co-operation as there is always an open door policy in the interest of Nigerlites and Niger State.
In his good will remark, the Deputy Speaker of the House, Hon. Hussaini Ibrahim, Member representing Agaie Constituency from zone 'A' of the state, Commended the initiatives of his Colleagues, which he said, will serve as a model for other zones of the state to emulate and also eulogized the leadership qualities of the zonal Chairman and other Chieftains of the party in the state to continue to offer their useful legislative duties in order to Consolidate the gains of the party at all levels in the state.
In his remark, the zonal Chairman of the APC, Alh. Mohammed Sadiq Abubakar expressed his profound gratitude to the kind gesture of the lawmakers and re-assured them of his usual and continued support and cooperation while appealing to other political officers to emulate such gestures, so as to consolidate the gains of the party in the Zone, Niger State and Nigeria at large.
Hon. Members present at the Presentation of the vehicle, were Hon. Malik Madaki, representing Bosso Constituency, Hon. John Paul Bahago, representing Munya Constituency, Hon. Mohammed Salihu Tama, representing Edati Constituency, Hon. Mohammed Danlami Bako, representing Rafi Constituency and the Clerk of the House, Alh. Abduliahi Mohammed of Kagara as well as other management staff of the House of Assembly.
Signed:
Alh. Saba Adamu
HOD. Information and Protocol
Niger State House of Assembly
NGHA