Senate Didn't Reject Magu, Indict SGF—Majority Leader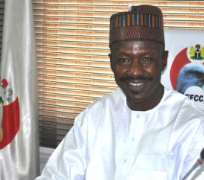 Ali Ndume, Senate Majority Leader, has said that the upper legislative chamber has neither indicted David Babachir Lawal, Secretary to the Government of the Federation (SGF) nor rejected the nomination of Ibrahim Magu as the chairman of the Economic and Financial Crimes Commission (EFCC).
Ndume said this in reaction to questions from State House correspondents on the position of the duo after consultation with President Muhammadu Buhari on Monday in Abuja.
He explained that the Senate only demanded some clarifications from President Muhammadu Buhari on Magu following a report received from the Department of State Services (DSS).
Asked why Magu failed to be confirmed, Ndume said, "No, no no, let me say categorically that the Senate did not reject Ibrahim Magu as the chairman. What happened was that when we slated his confirmation for Thursday, then we had an issue or a letter from the Department of State Services (DSS) that could not allow us to continue with the confirmation without further clarifications.
"We now concluded that since we have a letter that we cannot ignore, we cannot do the confirmation. So, it was not that we sat down to take a decision that we have rejected Ibrahim Magu. So, I want that clarification to come out clearly.
"We specifically asked chairman media to issue a statement. What we said was that on that Thursday, the Senate could not go ahead with the confirmation of Mr. Ibrahim Magu and that we are in possession of a letter from the Department of State Services which requires clarification from Mr. President, who is the head of the government. That was what happened.
"Even if the rejection is going to come, it is not going to come from the Senate because we have not done anything anyway."
When reminded that the Senate spokesman, Aliyu Abdullai Sabi, said the Senate rejected Magu, Ndume said, "I hope we are not arguing. I listened and I still listened because of this controversy that can come out. I'm part of the persons that wrote the short press statement which states that the Senate cannot continue with the confirmation. It is different from saying that the Senate has rejected. In fact, we have referred the other four to the committee."
On Senate recommendation for the sack of the SGF, he said, "It's not an order we are giving. The Senate resolution is a recommendation, it's not a law. What the Senate considered is work in progress because it was an interim report.
"It is the same public that is interested and worried to know what we have done as a Senate about those allegations. The committee issued an interim report and the interim report seemed to indict the SGF, the consequences of that indictment are what they recommended but we are not there yet because the report itself is interim. Ok, we take the interim report; we give the public until the whole investigation is concluded.
"I hear, coming from the SGF that he has not been given a fair hearing, so the hearing has not finished. We can give him an ample time to go before the committee and clear himself."
Asked why he came to see the president, the Senate leader, said, "Let me say that my meeting with Mr. President is not a new thing in that you have been seeing me here in and out for two reasons: one I'm the Senate leader by the grace of God and two, Gen. Buhari, the president, is one of my mentors and we have been relating since 2002. So, we normally come intermittently to compare notes on issues, so that's my reason for coming here."
Read more at http://independentnig.com/senate-didnt-reject-magu-indict-sgf-majority-leader/#IcWKpgZFTTACj1gb.99