MAGU: Nigerians React As Facts Emerge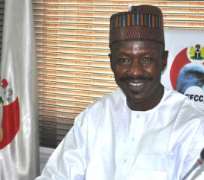 Thursday, 15th of December 2016, have passed but the memories of the major event of that day still reverbrates in Nigeria like an aftershock of a very high magnitude earthquake.
Nigerians are wondering why our Senators were quick to adopt the DSS report against Magu without availing him an opportunity to defend himself. This departure from fair hearing and assesment has invoked an objective curiosity amongst Nigerians.
In this report, we bring you the feelings and reactions of Nigerians as expressed in various media platforms.
​
@Romberg and few others, didn't I tell you to tread softly on the Senate allegations against Magu? I just don't understand why it is so easy to swindle so many of us even though they are "well educated". I sell suya in Shagamu with my almajiri education yet, no one can easily fooled me, certainly not our Senate members. Why are some Nigerians aiding and abetting corrupt Senators?
First of all, if the Senate members were honest, they should have invited Magu to a Senate Hearing Committee grilling. Instead, they made fools of themselves by rushing to a judgement based on a report given them by DSS signed by one Folashade Bello. The gullibility of many Nigerians stinks to the high heaven and so, Saraki, Dino and gang were able to pull a fast - dumb one - on you all. I am not saying Magu is a saint, but he is much saintlier than Saraki, Dino and many of our Senators. These funny Senators count on our gullibility and are banking on many of us for solidarity. They sure knew many of us would eat up whatever they said. Judging by some of the comments here, I can easily conclude that they got the solidarity. With the help of many ignorant and suffering Nigerians, corruption is truly fighting back.
As I have already pointed out in my comments on this topic, we humans are funny creatures. We have the ability to good but many are full of evil. Once we committed any crime, we would do anything possible to cover it up. And we would do anything to remove any stumbling block to cover up our evil deeds. These Senators are fighting a war of survival. Right now, they are all hanging by the thread. This was how Nuhu Ribadu was neutralized and removed by James Ibori and his gang. Are we going to allow ourselves to be fooled again? Are Senators Bukola Saraki, Dino Melaye, Andy Mba, Stella Oduah and others not worst than Magu? Just look at the stupendous lootings Bukola Saraki did in Kwara State. He is the one behind the Magu charade. On Magu, convince me facts, not calumnious lies
Screw-em II
You nailed it dead center, Magu, is going nowhere!. Just watch as this intriguing deception unfolds. The NASS as we all know is a cesspool operated by armed robbers in deceptive robes.
Emeka Fantastically
If you keep wrestling with the pig, it gets happy, while you get dirty, just do the right thing by avoiding the the imbecile like a plaque, and in turn advise others in toeing the same line, because this is the only way to clean up this forum, and bring in sound minds to argue or rub minds constructively to move the nation forward and perhaps cage these criminals in NASS.
ike24 Höly Wähala
You know I am not Partisan but make no mistake this is our Senate President and his friends trying to get rid of Magu. In my experience the only reason Nigerians want to get rid of people is when they can't buy them. Magu is not a saint but I don't think we have those in Nigeria.
Edd
"Are you saying for sure the report was fabricated or based on the PT report? For once, the DSS and EFCC bosses are from the same part of Northern Nigeria. They are same muslims. They hold key positions in PMB's government. So, beyond the rhetoric of who wrote what, it is clear there is something fundamentally wrong between the two. And for the President to have kept mute over this suggests something is wrong somewhere along the line. And again, recall that PMB listed Magu for the job but did not forward his name to the Senate like others? Secondly, it was only when he traveled out for medical reasons that Vice President forwarded Magu's name to the Senate? Since PMB returned, has he asked Senate why they have not confirmed Magu since the name had been forwarded to them? If not, why? You see, in all of these drama, or riddle, it app
Jakin Umunede
Coming here screaming about a report in the Premium Times makes no sense at all. Now get this into numb skull you retard son of karuwa. The credibility of any book or report is just as good as the writer. Officials of the last regime are still out there in full force undermining the current regime through the press with the helps of men like Raymond Dokpesi, Mike Adenuga and Orji Kalu. Remember Dokpesi got billions of Naira from Dasuki for publicity. Clandestinely, Jonathan, Ngozi, David Mark, Saraki, Ekwerenmadu, Anenih and Tompolo are out there spending millions of Naira to circumvent the current regime.
In 2008 when Ibrahim Magu was indicted by the Police authority, he did not seek any injunction to stop the indictment. He went straight to authority and faced the panel. In the end, the panel exonerated Magu of all charges. The Police IG at the time James Okiro later promoted Magu. Magana yakare! (case closed)!
Even though you are a onuku, I expect you to know that the EFCC boss, whether acting or confirmed have official residence. So, where does the insinuation about the N20m rent comes from? Mutum banza!
You come here all time to run your akpucative stinking mouth trying too hard to pass yourself off as a smart individual. Stop pushing it, you lack what it takes to be a smart guy. You are the most empty son of a karuwa I have ever known. Jakin Umunede!
Mekudi
What I find disturbing and even amusing though is the write-up by DSS albeit false it may be, or even if it was true against a fellow arm of the executive without communicating this to the President first? I mean what a jackass of a country is this? How can DSS that is supposed a secret police unit be engaging in this type of muck? Is there any decency left in this country? There is conflict of interest everywhere and no one is doing anything about it even the President of the country? He sits there while criminals in the
Senate run amok and all over him!!! Bukola Saraki should have long gone from that post were it not for this mumu head of state we have who brought shame to this country with his indeciseveness! Trust Obasanjo on this type of nonsense!
The other thing for me though with all the names being bandied about as replacement. They are all northerners!!! For heaven's sake is it only the northerners that can have this post? What is wrong with us as a nation with parochialism?
Hilary
This thread is about Magu and his alleged corruption not about individual senators. Public service is not a fashion show of whom is the least corrupt as your post is insinuating. Magu is not a honourable man that is here to fight corruption but an attack dog that is doing his master's bidding. Saraki and co have the right to fight back because in a jungle it is all about survival of the fittest. I can draw a very long list of corrupt officials in Buhari's government. EFCC is an irrelevant department that shouldn't have any place in modern democracy. All the high and low profile cases it is handling are normal day to day police affairs, Nigeria operates a federal policing structure so no need for an overarching organisation like EFCC.
Magu should start by arresting his predecessor who is accused of massive looting, investigate Chief Of Army staff's Dubai home purchase and make a statement on the largess of private jet by a compromised businessman or do the honourable thing and stop parading himself as a saint but eat silently like the ones before him.