Mooted $75 million Oscar breaks China soccer spend record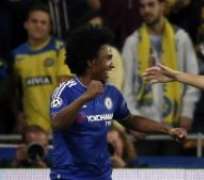 China's seemingly unstoppable assault on soccer's $5 billion player trading market looks set to reach new heights as the January transfer window is about to open.
Media reports in the U.K. suggest Brazilian midfielder Oscar, a reserve at English Premier League table topper Chelsea, is on the brink of becoming China's most expensive player with a 60 million pounds ($75 million) transfer to Shanghai SIPG. That record might be smashed again by the time the trading period in China closes on Feb 28. Another Brazilian, Hulk, is currently the most expensive player, having arrived in this summer for $61 million.
Last year, Chinese teams spent $296 million over the winter, according to world governing body FIFA. That beat the amount spent by the richest leagues in Europe during the same period. Fueled by some of the country's wealthiest companies and individuals, the amount spent in the current transfer window could be more than the combined spending of two or three of the biggest European leagues, according to Marcos Motta, a Rio de Janeiro-based lawyer, who's worked on major player trades to Europe and China.
"The Chinese have unbalanced the market," said Motta, a partner at Bichara e Motta Advogados.
Even though the spending was sparked by President Xi Jinping's request to create a sports economy built around a successful soccer program, the ruling Communist Party's official newspaper, the People's Daily, published an editorial Friday cautioning against some of the excess. It said 80 percent of the 4.1 billion yuan ($590 million) spent by the 16 clubs in the country's top division this year was on foreign coaches and players.
That outlay meant there has been insufficient focus on infrastructure and youth development, the newspaper said. It cited a serious knee injury to Shanghai Shenhua striker Demba Ba in July on a field it described as a "cabbage patch" to highlight how investment should also be focused on improving infrastructure, including medical provisions.
The salaries offered to players in China are far higher than anywhere else. That's attracted players in their prime. Motta said players who would command a maximum of 5 million euros ($5.2 million) in wages are being lured with offers of as much as seven times that amount after tax in China. "The Chinese are simply in a race to see who spends more money," he said. Agent Fees
That kind of money has attracted a group of soccer's most prominent agents, including Cristiano Ronaldo's Jorge Mendes, Brazilian Giuliano Bertolucci, Iranian-born Kia Joorabchian and Israeli Pini Zahavi. "Sometimes I wish I could be an agent," said Motta, saying fees in China are among the most lucrative in world soccer. Last year, China's Fosun International Ltd. bought a stake in Mendes's Gestifute agency.
Chinese cash has a direct effect on European soccer regulations. Should Oscar's transfer go through, Chelsea will have banked $100 million for two players who are not in the starting eleven, having sold another Brazilian, Ramires, earlier this year. The revenue boost allows Chelsea to recruit without falling foul of European soccer's spending regulations. "It allows Chelsea to get around the rules," said Simon Chadwick, a sports business professor and consultant to Chinese soccer.
China's regulations stipulate a maximum of three foreign players can be on the field at any one time. That means players will need to be paid off to make room for new arrivals. "So the total cost of recruiting players will be much higher because of these extra costs," said Motta.