Jubilation Galore In Adamawa As Court Asked Bindow To Continue In Office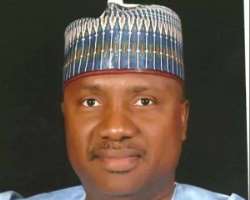 Case closed, doors of Government House Dougeri Adamawa state has been shut against those seeking for a come back. The deadline of the case was wrapped up today, the case dismissed and no condition was attached to it says a jurist in a supreme high Court in Abuja.
The set time of 16th December case appeal by Former Governor Murtala Nyako of Adamawa state,seeking for his remaining 8 months in office that was abruptly denied of by an impeachment saga of the Fintiri led house assembly in 2014 has been finally decided.
The judgement states that Justice Mohammed Dottijo, Nyako Lawyer compromises his case from the Court of Appeal thereby withdrawing the plea "Reinstatement".
So why bringing the appeal of reinstatement here? He should have been reinstated today because he has remaining tenure by law, but his lawyer spoiled it, and his lawyer has every authority by law to do everything with the case, therefore, Nyako should be paid his entitlements only.
Verdict turned both young and old, lover and fans of Governor Bindow and those believing in his mission of developing the state into an enviable standard into a celebration mode.
Before today many in support of Nyako return had turned the court case into a topic of discourse even when the case to somebody that have common sense will never be convinced on the tentativeness and certainty that the case will hold sway in favor of Nyako.
At exactly 9:am court began sitting and at about 9:45am the judgement has been passed to have "dismissed the case" and asking Governor Muhammadu Umaru Jibrilla Bindow to continue the good work he has started to the people of the state.
Though the case was actually between Nyako and the former Legislature that was having Rt Hon. Umaru Fintiri as the speaker. But for justice to prevail Nyako was cleared to have been illegal impeached without the lawmakers following due process.
This singular verdict today is turning Adamawa state into a celebration galore as many responded to say it would have been more disastrous to the entire people of the state to have removed Bindow that the state is privilege to have.
Alhaji Abubakar Adamu Sheleng who is seen dancing in the street of Gimba road cannot hide his joys amidst of hundreds of people rejoicing, he resort to only be saying "Alhamdullilah" .meaning Praise and thanks be to God Almighty that Bindow will remain as a governor.
"We can sleep well now our ears will be lighter from hearing all sort of stories from the supporter of Nyako that some of them had even swear with Holy Quran that Bindow will seize to be a Governor from 12noon today." Shelleng said
"It will pain people like us that we are strongly behind Bindow to continue the good act of governance he has started, appreciating what Gwamnan Talakawa over doing is never can be over emphasis. God have disgrace the enemies of Adamawa state by turning back this judgment against them.
"Even if Nyako is a saint his coming back is a minus to us, the State will be a retrogressive one when it comes to development. " He added
Today verdict is consider a verdict of victory to all lover of Adamawa state, so the celebration goes from street to street, even local governments areas were not left behind as report indicates people are seen discussing the issue In joy in Girei Shelleng and Ganye over the victory.