5 Most Influential Religious Leaders Of The Year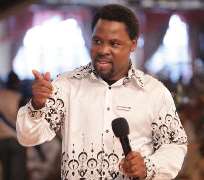 It's that time of the year when Pulse recognises people for their work. We acknowledge those who have made a name for themselves or maintained their already known names.
This list is of religious leaders that are very powerful in Nigeria. Here are five most influential religious leaders of 2016.
1. Prophet T.B Joshua: This man has done some things, things most Men of God could never live down. Yet somehow, he manages to rise up above everything with his die-hard followers clapping for him. He is the preacher everyone loves to hate, but he undeniably has the ears of most Nigerians. When he speaks, people listen. This makes him the most influential Man of God in this country.
T.B Joshua tops failed prophecy list
(distanceisnotabarrier)
2. Pastor Enoch A. Adeboye: The General Overseer of Redeemed Christian Church of God is simply revered. In fact, I think i can say he is adored and worshipped by his many devoted church members. Even people that do not go to his church hold him in high esteem. Little wonder, he is fondly called 'Daddy G.O.'
Pastor E A Adeboye
(articlewn)
3. Bishop David Oyedepo: The founder and General Overseer of Living Faith Church also known as Winners' Chapel has faced a lot of criticisms over the years. This year, he was dragged on the Internet for saying that the expensive school fees have been approved by God. He was also attacked when his daughter, Joy, performed an unbelievable 'miravle.' In spite of these, he is still loved and admired by many Nigerians. There is no doubt that he has a lot of effect many people.
Bishop Oyedepo
(lindaikejisblog)
ALSO READ: Top 10 Pastors In Nigeria Popular On Social Media
4. Pastor Paul Adefarasin: This man has managed to capture the hearts of many people, especially Lagosians. He gained major popularity points when he started The Experience Lagos in 2005! This interdenominational Gospel concert with great musical talents is a favorite for most people. The fact that he can get top notch artists like Cece Winans, and more to show up proves how influential he is. Over 750,000 worshippers were in attendance this year.
Pastor Paul Adefarasin
(thesheet)
5. Sultan of Sokoto: Muhammadu Sa'ad Abubakar IV, the 20th Sultan of Sokoto, is no doubt the most influential man in the Islamic society. This is because he is considered the spiritual leader of Nigerian Muslims. He announces all major events like the Ramadan, and so on. He is also the chairman of Supreme Council of Islamic Affairs. He recently celebrated his 10th anniversary on November 5, 2016. This huge event was attended by dignitaries like President Buhari, former president Olusegun Obasanjo, Senate president Bukola Saraki, Speaker Yakubu Dogara, Governor Aminu Waziri Tambuwal of Sokoto state, Rochas Okorocha of Imo state, Reverend Father Matthew Kukah, the Emir of Kano, Sanusi Lamido Sanusi II, and the Ooni of Ife.
Sultan
(vanguard)
ALSO READ: Buhari, Obasanjo, Saraki, others attend Sultan's 10th anniversary
Honourable Mention: All South African pastors. The dictionary describes influence as 'the capacity to have an effect on the character, development, or behaviour of someone or something, or the effect itself.' This is the perfect definition of what S.A preachers. How else can we explain why anyone would drink Dettol, allow a pastor spray Doom insecticide on them, drive over them, put them in freezers. e.t.c. Kudos to them because they wield a different kind of influence that Nigerian pastors simply do not have.
Prophet Rufus forces church members to drink Dettol
(dailysun)