Mega party: PDP will not change its name — Gana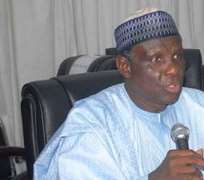 The Senator Ahmed Makarfi-led faction of the Peoples Democratic Party (PDP) will not change its registered name for a mega party, Prof. Jerry Gana, has said.
Gana, who chairs the PDP Strategic Review and Inter-party Affairs Committee, made statement on Thursday in Abuja in an interview with newsmen during a meeting of the committee.
Asked for his comment on the recommendations of the committee on the issue of mega party, Gana said that the party's relationship with other political parties would be based on principle and cleared ‎guidelines.
He said: 'on the progress of the alliance, I will not like to give details of what is being recommended, but the PDP is desirous of attracting all lovers of democracy across the country as we move forward.
'There are details I cannot divulge at the moment because the committee's recommendations will be passed on to the party leadership. It will not be wise to disclose the details before we submit the report.
'On the issue of mega party, we are not yet aware of PDP involvement, but all we can say is that the party wants to relate with lovers of democracy in all the parties.
'We have a syndicate committee working on this chaired by former Deputy Senate President, Ibrahim Mantu.
'They are to give us the guidelines for any re-alignment plan and the number of parties that are willing to join us.
'Our engagement will be based on principle and cleared ‎guidelines.
'PDP is the only party that can be found in every ward, it is the only party that has not changed its name, and we are not going to change the name of our party.''
Gana said that the committee, which was broken into 11 syndicates, would come up with recommendations that would help to re-position and strengthen the party.
He called on lovers of democracy in the country to rise up against what he described as `degeneration of democratic and electoral process gained during PDP administration.'
'Democracy in Nigeria is under threat and we must rise and defend democracy, because that is the best form of government for humanity now.
'This is not the age for military rule or autocracy.
'In democracy, there must be freedom of voters to choose freely, peacefully, in a free and fair election that is credible,'' he said.
He said that the PDP condemned in strong terms the current degeneration of electoral process with violence being brought into political arena as witnessed in Rivers.
Gana said that the committee would reconvene in the middle of January 2017 to continue on its deliberations.
The committee, inaugurated on Nov. 8 by Makarfi was given three months to submit its report.
The committee among other mandates is expected to map out strategy how the PDP would reclaim power in 2019 through democratic means.