IN FREE AND FAIR ELECTION, PDP WILL NOT GET 30 PERCENT OF VOTES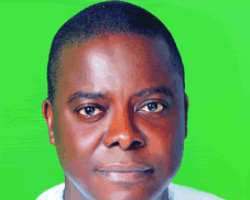 Barr Okechukwu
You contested the 2007 governorship election under the platform of the Labour Party (LP). Now, you are in Progressive Peoples Alliance (PPA), what informed the movement?
We joined PPA because we felt and we still feel that it captures the essence of the politics of the Igbo. My people clamoured for it, saying that as far as they were concerned, PPA was formed to pursue, articulate and aggregate the interest of our people. They felt PPA was a strong platform on which to advance the interest of our geo-political zone.
You nursed governorship ambition in 2007, will you run for the same office in 2011?
Definitely, we are still in the race because our race is based on principle and that principle is that we want to effect some positive change in the lives of our people. And the government that had come into being from 2007 till date has not done anything close to what we had planned for our people.
They have not improved the education of the young ones. They have not created jobs, unemployment and poverty that have reduced the youths to more of less societal misfits is still the order of the day in Enugu State. The health issues of the people have not been tackled. Enugu State is made up of not less than 70 percent peasant farmers but there is no policy in agriculture that touches the rural peasants.
As we are talking in Independence Layout, no single drop of water can be fetched by anybody there. You got to have enough money to buy a tanker of water at the cost of N6,000 or N7,000 every week. Those things that propelled the struggle in 2007 are still there. So, as far as we are concerned, the struggle continues.
With the release of the 2011 elections timetable by INEC, how prepared are you?
We are very much prepared for the battle ahead. The INEC timetable is a good one and we are hoping that the National Assembly will effect the necessary reforms in terms of constitutional amendments and amendment of the electoral act to reflect the lofty ideas in the timetable. For instance, the idea of holding elections not less than five or six months before the swearing in of the winners of the elections so that disputes would have been concluded and decided finally. We are not taken unawares by the INEC timetable. We are ready for it.
What are the handicaps of the present government that you would tackle if elected into office?
One of the basic handicaps of the present government in Enugu State is that the government has no vision and, therefore, there is no mission to actualize anything. It was like a case of somebody who never prepared for the office and, therefore, he has little or no idea of what to do with the resources of Enugu State that has been entrusted into his hands. Because they were not elected by anybody, they have no respect for democratic ideas of one man one vote. Therefore, they do not see the people as the reason of politics in the first place. They do not recognize the sovereignty of he people, they do not recognize the voters because nobody voted for them. That's why they've conducted two local government elections and all of them were passed. Nobody cast one single vote to elect a councilor or a local government chairman.
We are saying that because the government did not start from a proper foundation, that is why we are seeing such poor performance. In a situation where somebody did not campaign, he had no programme to sell to the people, no manifesto other than the fact that he would be put in office and he was put in office, he owes no duty to anybody. They have passed and implemented 2008 and 2009 budgets and now implementing 2010 budget, they have never given account to anybody.
As at December 2009, the local governments had collected N57 billion from the federal allocation. As at December 2009, the state government had collected N80 billion from the federal allocation. This is apart from whatever they have collected from internally generated revenue, which they don't tell anybody. Nobody knows how much is being generated in Enugu State per month or per annum. And the governor put his brother, Chief F.O.C. Chime, in charge of internally generated revenue while he is in charge of federal allocated revenue.
So you can see what is happening in Enugu State. It is only in Enugu State that you don't know the cost of any project. I have challenged them severally. I've told them that I am ready for debates with them. They have refused to disclose the cost of mere road rehabilitation that they are doing. If you talk of road construction, take a road from Amangunze to Emene or from Ugboka to Mpu.
If there is any state in Nigeria that has need for virgin road network, it is Enugu State but they are not looking in that direction at all. There is urgent and important need to open up the rural areas , which is where the greater percentage of Enugu indigenes reside. They have no access to good roads, potable water and electricity. The roofs of many primary schools are falling. The teachers are not motivated. There are no hospitals. These are the places we expect the government to spend money and improve the lives of the rural dwellers.
Have you held any political office?
No. I have not held any public office.
With what experience do you intend to pilot the affairs of Enugu State?
First and foremost, I've been a senior civil servant in the Federal Ministry of Finance for about 13 years. I want to assure that the experience of a civil servant for five years is a lot more beneficial than a political office holder for 10 years because only a civil servant understands due process. A politician will not understand that. If somebody has been a civil servant for six years at the senior level, you cannot compare him with a commissioner or senator for 10 because the latter knows next to nothing about public service.
I am sorry to say that among all the problems of Nigeria today is that those tenets and principles of public service have been eroded. Therefore, I come to the office with experience as a retired senior civil servant, a private businessman and legal practitioner for over 15 years. It is a combination that most of the people who hold public office today do not have.
Considering the strength of PDP and the ruling party, do you think you have the war chest to withstand them?
What is the war chest in a political fight? The war chest in a political fight is the people. PDP is only known as a rigging machinery. If votes are cast in Enugu State, PDP will not win 30 percent of the votes.