Rivers Rerun: Abatemi-Usman congratulates Magnus Abe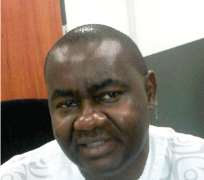 Former Vice Chairman Senate Committee on Niger Delta Affairs, Senator Nurudeen Abatemi-Usman, has congratulated Senator Magnus Abe, the winner of Rivers South East Senatorial rerun election held last Saturday.
Magnus Abe of All Progressives Congress (APC) was declared winner by the Independent National Electoral Commission, INEC, after he polled a total of 125,938 votes to defeat his main opponent, Olaka Nwogu of Peoples Democratic Party (PDP) who got 25,394 votes.
Abatemi-Usman who just returned to the country from Ghana as a long-term ECOWAS election observer, described the outcome of the Rivers South East senatorial rerun poll as a great victory for the entire people of Ogoniland and triumph for democracy.
"I congratulate Senator Magnus Abe of the All Progressives Congress (APC) for his landslide victory in the just concluded Rivers South East senatorial rerun election. The outcome of the election is, undoubtedly, a victory for the Ogoni people. It is a great victory for democracy. More importantly, it has revealed the impunity with which the 2015 election in Rivers State was conducted and the manipulations therefrom where a particular party cleared all the National Assembly seats in the state. I do know that the people of Rivers South East will not regret their decision as Magnus Abe did not let them down in the previous term he served in the Senate. As a colleague to Abe in the seventh Senate, I can attest to his valuable contributions on the floor of the Upper Legislative Chamber of the National Assembly. I wish him a huge success as he returns to the Red Chamber to continue with his laudable representation of the good people of Rivers South East," Abatemi-Usman said.
He equally commended the former Governor of Rivers State and Minister of Transport, Rotimi Amaechi, for his role in the election of the APC candidates that emerge victorious in the Rivers rerun polls. According to him, "the outcome of the Rivers Rerun elections has clearly revealed a lot more about the leadership and acceptance of Rotimi Amaechi in Rivers States politics, as against the widely condemned outcome of the 2015 elections in Rivers State."
FROM MICHAEL JEGEDE
MEDIA PROFESSIONAL
ABUJA