FOOTBALL STARS WHO WANT TO BE KINGS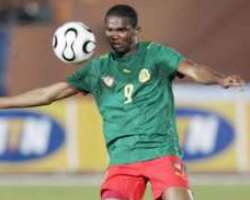 Eto'o
As the countdown to the first-ever World Cup on African soil tagged: South Africa 2010 is edging to its kick-off day, actors to the mundial are perfecting their strategies on how to outdo one another at the competition.
Some of the gladiators are captains of the various teams that qualified for the 2010 World Cup. They command a lot of respect from their teammates, who believe they have what it takes to inspire them to victory during the fiesta in South Africa, which kick-starts on June 11 and ends July 11.
Below are some of the gladiators, who want to lift the prestigious trophy on the final day of the competition.
Uruguay's Captain:
Diego Lugano
Full name Diego Lugano
Date of birth Nov. 2, 1980
Place of birth Canelones
Height 1.88 m
Position Centre back
Captain of Denmark:
Jon Dahl Tomasson
Date of birth August 29, 1976
Place of birth Copenhagen
Height 1.82 m (5 ft 11+1¼2 in)
Playing position Second striker
Australia's Captain
Lucas Edward Neil
Full name Lucas Edward
Date of birth 9 March 1978
Place of birth Sydney
Height 6 ft 1
Position Right Back
Algeria's Captain's Profile
Yazid Mansouri
Date of birth: Febuary 25, 1978
Place of birth: Revin
Position: Midfielder
Height: 175cm
Weight: 69kg
Ghana's Captain
Stephen Appiah
Date of birth December 24, 1980 (age 29)
Place of birth Ghana
Height 1.78 m
Position Midfielder
Cameroon's Captain Eto'o
Full Name Samuel Eto'o
Birth Date March 10, 1981
Birth Place Douala, Cameroon
Height 1.80m
Weight 75 kg
Age 29
Position Forward
Squad No 9