Gov. Ikpeazu As A Good Brand Ambasador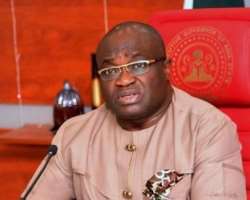 Brand ambassadors, also known as Corporate Ambassadors, are hired by organisations to represent brands positively as well assisting comapanies to increase the awareness of brands to promote sales.
Few characteristics mark out brand ambassadors. One is that they should have an appreciable knowledge of the core principles of marketing.Another is that they should reach out to a wide range of people.
Also, brand ambassadors have the capacity to influence people's perception of products as well encourage them to patronise the product. Another important function of brand ambassadors is to foster strong relationships between the custonmers and the brand. They also gather feedback from customers about a product. This will enable the firm to improve an their products and services.
These and more are what Governor Okezie Ikpeazu of Abia State is doing for the made -in- Aba wears as thevbrand ambassador. The governor has not relented in his efforts to ensure that these products capture the global market and attract huge patronage.
Ikpeazu has taken advantage of every opportunity to market the made-in - Aba wears.One of the occasions is the 2016 Tony Elumelu Entrepreneurship Forum held in Lagos recently where Governor Ikpeazu did not take chances to launch made-in -Aba shoes. This excited former President Olusegun Obasanjo, who served as one of the panelists, to place an order for pairs of shoes.
This also prompted the Senate President, Bukola Saraki to urge other military and paramilitary outfits in the country to emulate the army by immediately banning the purchase of all imported foot wears in preference for locally produced ones.
" According to him, "this is the essence of the amendment of the Public Procurement Act by the Senate since June. The new law compels all Ministries, Department and Agencies of government to compulsorily give preference to goods and services which can be sourced locally. We believe one of the gains that our country will derive from this recession is to make our people look inward and patronise locally made goods".
While Governor Ikpeazu is fulfilling his beat in marketing the brand" Aba", the federal government should not hesitate in fulfilling its own beat. There have been calls from several quarters on the federal government tto ban importation of all goods that Nigerians have the capacity to produce locally.
The former Senate President, David Mark in 2013 during a trade fair to launch made-in Aba products in Abuja described Aba as the" catalyst of industrial revolution in Nigeria'' and urged the federal government to discourage importation of foreign goods because Nigeria has no business importing those goods which do not measure to the quality being produced in the country.
He commended the people of Aba for doing the nation proud through the spirit of enterprise and innovation demonstrated in quality products and goods made available through local skills, he said``We have no business importing military boots when what is produced here locally is more superior to that which is brought into the country.
Mark also called for a radical transformation of the Nigeria's industrial base by providing adequate facilities to support the efforts of indigenous producers to boost economic growth,and urged relevant agencies of government to create adequate awareness on the need for introduction of policies that would enable local initiatives to thrive.
Abians have no other option than to assist this great brand ambassador (Ikpeazu) in this his marketing efforts, especially now that serious pressure is exerted on our currency (the naira) because of import dependency .This situation is necessitated by weak, narrow export base where revenues generated from oil and gas account for over 70 percent of our foreign exchange earnings.
The time is ripe for us to encourage made-in-Aba goods. This effort if implemented will go along way in ameliorating the economic woes of the country by saving the nation the foreign currencies expended on importation of good and services( even those we have the capacity of producing).
Ukegbu, a communication strtegist, writes from Umuahia.
Disclaimer:

"The views/contents expressed in this article are the sole responsibility of the author(s) and do not necessarily reflect those of The Nigerian Voice. The Nigerian Voice will not be responsible or liable for any inaccurate or incorrect statements contained in this article."
Articles by Okechukwu Ukegbu