2011: OBJ REVIVES CAMPAIGN PLATFORM FOR JONATHAN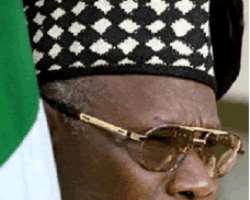 Fresh facts pointing to the readiness of President Goodluck Jonathan to contest the 2011 presidential election emerged following the resuscitation by former President Olusegun Obasanjo the hitherto dormant Southern Leaders Forum (SLF) to canvass for a president from South-South in 2011.
The Forum headed by Ambassador Mathew Mbu, sources reliably informed Saturday Sun had equally sought and got the blessing of President Jonathan to mount the campaign.
SLF was a platform created in 2005 by Chief Obasanjo and supervised by the then Enugu State governor, Dr. Chimaroke Nnamani to demand for a president from among the governors then to succeed him. The ploy was to shut out contenders like his estranged deputy, Atiku Abubakar, Prof. Jerry Gana, Gen. Buba Marwa, and Gen. Ibrahim Babangida, who later withdrew.
Immediately after late Umaru Yar'Adua's emergence as the PDP Presidential candidate, the Forum fizzled out with his activities.
This time, the game is to use the forum to broadly canvass for South-South presidency in 2011 and specifically demand for Dr. Jonathan as the candidate of the Peoples Democratic Party (PDP)
It was gathered that the Forum will soon launch out and one of the steps will be to visit the PDP leadership to demand that the party should pave the way for the emergence of President Jonathan as the party's candidate.
To achieve this, Saturday Sun was told that the Forum's visit to the PDP secretariat will not come until the embattled chairman of the Party, Chief Vincent Ogbulafor leaves office and a pro-Jonathan chairman is elected.
One of the factors on which the Forum will base its calls for Jonathan to run in 2011 is the supremacy of the Nigerian constitution which has no provision for rotational presidency and divine intervention which brought Dr. Jonathan into office as president.
The Secretary of the Forum, Dr. Dejo Raimi, a former secretary to the Oyo State government confirmed to Saturday Sun that SLF is back and in full force. He also confirmed that the forum was ready to take up the gauntlet to campaign for Jonathan for 2011.
He was however not forthcoming when asked if the planned move was with President Jonathan's consent.
Raimi nevertheless said he could say it with all emphasis at his disposal that President Jonathan would contest in 2011 because he has the right to do so and that he was only completing his boss's term.
He explained that the Forum will be deploying everything into campaign because, 'we believe that Jonathan's presidency is God's handwriting in Nigeria's politics. This is the only time he has and the only time South-South has. That is the work of God, it was never planned by man, but God has intervened and he has planned it for us.