BREAKING NEWS: Twin blasts hit football arena in Turkey's Istanbul – at least 20 people injured
At least 20 people reported hurt in the attack two hours after a football match at Besiktas Vodafone arena.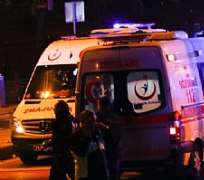 Two explosions have hit the Turkish city of Istanbul wounding at least 20 people, according to news reports and posts on social media.
Police have evacuated the area around the Besiktas football club and arena overlooking the Bosphorus Strait following the explosions on Saturday evening.
The arena is located across the historic Dolmabahce Palace.
Al Jazeera's Sinem Koseoglu, reporting from Istanbul, said all the roads leading to the arena have been closed to the public.
Our correspondent said that the twin blasts occurred about two hours after a football match attended by thousands of people at the Besiktas Vodafone arena.
There was no immediate claim of responsibility for the attack, which police say was caused by a car bomb.
Al Jazeera Nerws