BoI disburses Ooni-secured loans to MSMEs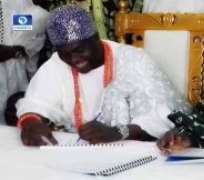 The Bank of Industries (BoI) has commenced the distribution of cheques to 20 beneficiaries under the first phase of the one-billion-Naira Micro, Small and Medium Enterprises Development Fund in Osun State.
The one-billion-Naira loan project is between the Bank of Industries and the House of Oduduwa under the leadership of the Ooni of Ife, H.I.M, Oba Adeyeye Ogunwusi, Ojaja the second.
At the presentation of the cheques to the beneficiaries in Ile Ife, Osun State, the acting Managing Directors of BOI, Waheed Olagunju, said the project wass to enable the unemployed become an employer of labour.
He state that the 20 beneficiaries who received 30 million Naira in the first phase have undergone capacity building programme over the last six months to enable them sustain whatever business enterprises they go into.
The BOI boss said he was confident that about 80 to 90 per cent of the beneficiaries would succeed based on the capacity building training they had received.
He further explained that the loan would cover services and Agro-allied ‎businesses with repayment plan ranging between three and five years under a single digit interest rate of 7.5.
The Bank and the House of Oduduwa in Osun State on November 16 signed the one-billion-Naira agreement that would make loan facilities available to both women and youths in Ile-Ife.
‎‎Prominent among the features of the Memorandum of Understanding is the 7.5% interest rate to the beneficiaries.
Oba Ogunwusi signed for the House of Oduduwa while Mr Olagunju, represented the financial institution.
The monarch emphasised the need to get youths empowered, saying it was necessary for the nation's continuous growth. - Channels.