Publix Pharmaceutical Births in Nigeria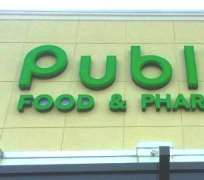 As part of efforts to reduce the incidence of malaria, HIV/AIDS, tuberculosis, malnutrition, as well as other communicable, non communicable and Neglected Tropical Diseases in Nigeria, Publix Pharmaceuticals, a subsidiary of Publix Healthcare UK, is launching its presence into the country's healthcare sector.
Stating this during its maiden press briefing in Lagos, the Superintendent Pharmacist of the firm, Mr. Davies Akindele, said with the scarcity of drugs and other treatment facilities needed to tackle the rising incidence of various disease burdens in the country, there was need for a pharmaceutical company with quality drugs and network to become closer to the people.
He said the right drugs and its accessibility would reduce the number of deaths from various healthcare issues in the country, adding that Publix would not only import UK standard products, but would begin local manufacturing for better affordability.
"Considering the number of communicable diseases, non communicable diseases and neglected tropical diseases increasing daily in Nigeria, we believe with the right management and treatment tools available, the burden rate will greatly reduce, and that is why we are establishing at this critical time when some pharmaceutical organisations are folding up because of the harsh economic realities.
"One of the issues here is that there are no new innovative treatment products, hence, we want to bring in the best anti-malaria drugs, oncology products for cancer patients, anti-retroviral drugs of high standards, among others, at a very affordable price so that it can benefit the common man.
"For malaria, we are starting up a manufacturing unit for its testing kits and manufacture of high quality medicines like Publitem. If there are affordable malaria testing kits in the market, it will be very helpful for the common man to get diagnosis right in his sitting room," he said.
On her part, the Supervisor, Nigeria Operations, Publix Healthcare UK, Angela Rutaguza, said the budding pharmaceutical organisation was a part of the UK company that has identified gaps in Nigeria's healthcare system, and hence its resolve to solve them.
"Publix will focus on the production of world class quality and affordable medicines, and all these will be produced locally here in Nigeria, so that in addition to meeting healthcare needs, it will create huge employment, develop infrastructure in its surroundings, train workers on world class healthcare interventions and embark on sensitising Nigerians on preventive care."
Adding his voice, the Country Director, Astamed Healthcare, Bhavik Shethia, said its firm was the registered manufacturer for Publix across the world, as it was regarded as one of the top manufacturers across India. "Astamed and Publix are in a partnership to reduce global burden of diseases through pharmaceutical interventions," he said.
Source: < All Africa >