WorldRemit & GTBank Launch Money Transfer Routes To West And Central Africa
....New Overseas Bank Transfer Services For Six African Countries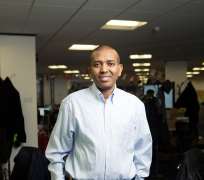 London, UK, 9 December 2016: Digital money transfer service WorldRemit and leading African financial institution Guaranty Trust Bank (GTBank) have launched new money transfer routes to West and Central Africa.
With the WorldRemit app or website, people can now send secure overseas money transfers to any bank account in Benin, Guinea-Bissau, Mali, Niger, Senegal or Togo. Funds will be deposited as CFA Francs.
Commenting on the launch, Dan Shuaib, the Managing Director, of Guaranty Trust Bank CI, said: ''This service removes the barriers that limit customers' access to remittances and provides them with a quick and convenient way to receive money from any part of the world.
Our partnership with WorldRemit to create this service is a testament to the bank's commitment to building strategic partnerships that birth innovative solutions and provide customers with a superior banking experience. It will also ensure that Africans abroad have a reliable way to send money to bank accounts across West and Central Africa."
Ismail Ahmed, founder and CEO at WorldRemit, comments: "We're delighted to be partnering with one of Africa's foremost banks to give our customers greater choice and convenience when sending money home. With the WorldRemit app, West and Central Africans living abroad can send money home to their friends and relatives with just a few taps. We make sending money as easy as sending an instant message."
WorldRemit is one of the fastest-growing money transfer services in the world, with customers now sending more than 500,000 transfers every month.
About WorldRemit
WorldRemit is changing the way people send money.
It's easy – just open the app or visit the website – no more agents.
Transfers to most countries are instant – send money like an instant message.
More ways to receive (Mobile Money, bank transfer, cash pickup, and mobile airtime top-up).
Available in over 50 countries and 125+ destinations.
Backed by Accel Partners and TCV – investors in Facebook, Spotify, Netflix and Slack.
WorldRemit is the UK's fastest-growing technology company (Deloitte Technology Fast 50 2015)
WorldRemit's global headquarters are in London, UK with regional offices in the United States, Canada, South Africa, Singapore, the Philippines, Japan, Australia and New Zealand.
About GTBank Côte d'Ivoire
Guaranty Trust Bank Côte d'Ivoire is a subsidiary of foremost African financial institution Guaranty Trust Bank plc, the first bank in sub-Saharan Africa to be listed on the London Stock Exchange. GTBank Côte d'Ivoire relies on the strengths of its staff, almost all of whose members are Ivorian, its structures, policies and procedures to fulfil its mission to serve the Ivorian economy.