EFCC: Obanikoro in fresh trouble over additional N450m poll cash scandal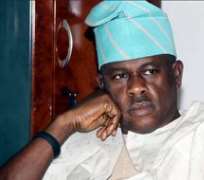 The Economic and Financial Crimes Commission is probing a fresh lead in its investigation of a former Minister of State for Defence, Senator Musiliu Obanikoro.
Obanikoro, who along with  his two sons, Babajide and Gbolahan, is currently under a separate investigation involving N4.7bn which was allegedly diverted from the Office of the National Security Adviser, is suspected to have received N450m from the Coordinator of the Goodluck Jonathan Campaign Organisation in Lagos State, Adewale Onilere, during the countdown to the 2015 presidential election.
 According to a report by   The PUNCH , the N450m was part of the N23bn ($115m) allegedly disbursed to the leaders of the Peoples Democratic Party in the 36 states of the federation by a former Minister of Petroleum Resources, Diezani Alison-Madueke.
A source at the EFCC told newspaper that Onilere, who is the Chairman of the PDP in the Somolu Local Government Area, received N650m from the campaign organisation out of which N450m was given to Obanikoro.
The paper further qoutes the source as saying, "Onilere received N650m and then delivered N450m to Obanikoro at his house. Onilere gave Obanikoro the money in the presence of some PDP leaders.
"So, on Wednesday, we invited Obanikoro to tell his side of the story. However, Obanikoro denied receiving any money from Onilere.
"Since Obanikoro is currently on administrative bail, we let him go. However, we have invited Obanikoro and Onilere to come to our office in two weeks' time to face each other. Surely, we will get to the bottom of this."
In a terse text message, however, Onilere denied handling stolen funds.
"It is certainly false and I know nothing about it. Thanks," he said.
The ONSA, under the leadership of the then National Security Adviser, Col. Sambo Dasuki (retd.), was alleged to have paid N4.7bn into the bank account of a company, Sylvan McNamara, in which Obanikoro's sons were directors.
Obanikoro had said in his statement on oath at the EFCC that after receiving the money in June 2014, he gave N1.219bn to the then governorship candidate of the PDP in Ekiti State, Mr. Ayodele Fayose; while N1.3bn was given to the PDP candidate in Osun State, Senator Iyiola Omisore.
He also confessed to giving Fayose a separate $5.377m at Spotless Hotel in Ekiti State in the presence of party stalwarts including the then Ekiti State PDP Secretary, Mr. Tope Aluko.
Obanikoro was said to have kept about N785m for himself, which he allegedly spent while campaigning ahead of the PDP governorship primary in Lagos State, which Mr. Jimi Agbaje won.
However, the EFCC asked him to return about N584m of which he has already returned N137m.