Fayose condemns FG increment of workers' PAYE tax, others, urges reversal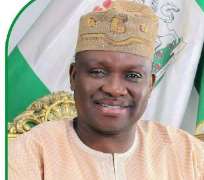 Ekiti State Governor, Mr Ayodele Fayose has called on the federal
government to rescind its decision to reduce workers salary through
obnoxious increment in Pay As You Earn (PAYE) tax, pension and
National Housing Fund (NHF) deductions, which were applied on gross
salary, making some of the workers to have as much 30 per cent
reduction in salary.
The governor said it was wicked and inhuman for any government to
increase taxes on workers salary at this period of economic recession
when "workers take home can no longer take them home," adding that;
"The federal government should stop believing that the only way it can
take Nigeria out of recession is to impose obnoxious taxes that will
further impoverish the people."
In a release issued on Sunday by the governor's Special Assistant on
Public Communications and New Media, Lere Olayinka, he said; "If
government does not have capacity to increase workers salary at this
trying period, it should not also increase taxes that will cause
decrement in what workers earn."
Salary of federal government workers was reportedly reduced through
increment in PAYE tax, pension, National Housing Fund (NHF), formerly
based on consolidated, which were applied on gross salary. Some of the
workers had as much as 30 per cent pay cut.
Reacting, Governor Fayose said it appeared that the President
Mohammadu Buhari led All Progressives Congress (APC) federal
government's desire was to kill Nigerians with obnoxious taxes.
He said; "As military head of state, Buhari used gun to deal with
Nigerians, now as a civilian president, he is using economic recession
to punish Nigerians and adding salt to injury by using inhuman taxes
to reduce workers salary.
"Buhari's government increased petrol price from N87 to N145 per
litre, kerosene; diesel and gas price was increased, electricity
tariff was increased, N50 stamp duty was imposed on bank customers,
N65 levy was imposed on every withdrawal on ATM, various bank charges
introduced, custom duties increased and now workers' PAYE tax has been
increased.
"I sympathise with the federal government workers who only got to know
about reduction of their salaries when they got credit alert last
month, but they should remember that I warned them.
"Workers are already facing hardships owing to the economic
recession, which has caused exchange rate to rise to as much as N480
to $1. The implication of this is that the purchasing power of a
worker that is earning say N100,000 per month has reduced to less than
N50,000 per month, meaning what such a worker bought at N10,000 this
time last year is now should at N25,000.
"I therefore call on the federal government to reverse this decision
so as to reduce the level at which the workers are suffering."
Disclaimer:

"The views/contents expressed in this article are the sole responsibility of

Lere Olayinka

and do not necessarily reflect those of The Nigerian Voice. The Nigerian Voice will not be responsible or liable for any inaccurate or incorrect statements contained in this article."