South African millionaire Phuthuma Nhleko sells $9 million MTN shares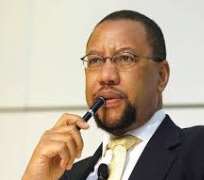 South African multimillionaire investor Phuthuma Nhkelo has sold off $9 million worth of MTN stock he owns in the past few weeks.
In a statement released on Wednesday, MTN, Africa's largest telecoms company, also said that Nhleko, who is the group executive chairman of the company, is also going to benefit from the termination of share options valued at another $9 million.
Nhleko, 56, sold about 1.08 million shares at R113.86 each. He owned a little over 2 million shares at the end of 2015, according to MTN's annual report.
An employee of mobile phone operator MTN tries to register a client with the network in the Obalende district of Lagos on March 8, 2016.
South African mobile phone operator MTN fuelled the Boko Haram insurgency in northeast Nigeria by failing to disconnect millions of unregistered users, Nigerian President Muhammadu Buhari said on March 8. All mobile phone operators in Nigeria were ordered to disconnect unregistered SIMs by mid-2015 on security grounds but MTN missed the deadline. Photo credit: PIUS UTOMI EKPEI/AFP/Getty Images
The South African businessman is preparing to hand over the day-to-day running of the mobile telecoms company to incoming CEO Rob Shuter. Nhleko took over the helm of MTN after the CEO Sifiso Dabengwa resigned in November 2015 in the wake of a record $3.9 billion fine in Nigeria for MTN missing a deadline to disconnect 5.1 million customers unregistered in the country. Nhleko led a team that negotiated with the Nigerian government for a reduced fine and the company ended up settling for $1.7 billion .
Before now, Phuthuma Nhleko served as the CEO for the MTN Group and had a stint as the CEO for the company's Nigerian operations. He is also the founder of Pembani Remgro , a resource, cement and energy-focused investment holding company.