US President-elect Trump appoints Nigerian Bayo Ogunlesi as a strategist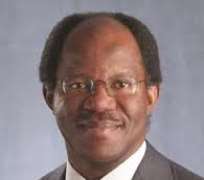 United States President-elect, Donald Trump, has appointed a Nigerian investment banker, Bayo Ogunlesi, to serve as a strategist on his economic policy team, CNN reported on Friday.
The 16-member group, which  will be led by Stephen Schwarzman of the American equity firm, Blackstone, will have a direct line to Mr. Trump and be tasked with giving the president-elect nonpartisan views on how government policy impacts the economy and jobs, the cable television said, quoting documents sourced from Blackstone.
Ogunlesi, a private equity tycoon, will serve as a member of the board, which also included CEOs of General Motors and IBM.
According to the report, the forum is expected to hold its first meeting during the first week of February at the White House.
Ogunlesi, 63, is the co-founder and chairman of Global Infrastructure Partners, an investment firm with a primary interest in infrastructure and real estate development.
He is perhaps best known for his 2010 acquisition of Gatwick International Airport in London, a deal that was said to be north of $2 billion at the time.
Mr. Ogunlesi is the first Nigerian to be appointed by Trump as he continues to shop for top advisers following his victory last month.
His appointment came a year after President Barack Obama named Adewale Adeyemo as his Deputy National Security Adviser for International Economics.
Other facts about Ogunlesi
1. Ogunlesi is the son of T.O Ogunlesi of Makun, Sagamu, Ogun State,Nigeria. His father is the first Nigerian professor of medicine. He attended Kings College, Lagos.
2. Bayo Ogunlesi is Chairman and Managing Partner of Global Infrastructure Management, LLC, which is a private equity firm with more than $35 billion in assets under management and invests worldwide in infrastructure assets in the energy, transport, and water and waste industry sectors.
3. Prior to founding Global Infrastructure Management, Mr. Ogunlesi spent 23 years at Credit Suisse where he held senior positions, including Executive Vice Chairman, Chief Client Officer, and Global Head of Investment Banking.
4. Mr. Ogunlesi serves as a member of the board of directors of Goldman Sachs, Kosmos Energy, and Callaway Golf Co.
5. Mr. Ogunlesi holds a B.A. in Politics, Philosophy and Economics from Oxford University, a J.D. from Harvard Law School, and an M.B.A. from Harvard Business School.
6. Prior to joining Credit Suisse, he was an attorney with the New York law firm of Cravath, Swaine & Moore. From 1980 to 1981, he served as a Law Clerk to the Honorable Thurgood Marshall, Associate Justice of the United States Supreme Court.
7. He was a lecturer at Harvard Law School and the Yale School of Organization and Management, where he taught a course on transnational investment projects in emerging countries