Nigeria targets $2.5b investment for LPG penetration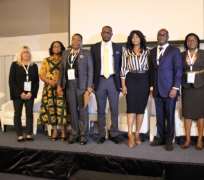 Nigeria currently lags behind other African countries in transiting to the use of Liquefied Petroleum Gas (LPG) and would require about $2.5 billion worth of investment in infrastructure and incentives to attain the five million metric tons (MT) per annum penetration target it has set.
It is surprising that regardless of Nigeria's gradual ascendancy as a gas producer, it fell short of a nine-year plan to attain a domestic demand of one million metric tons of LPG annually by 2015, as its current demand is estimated at a mere 400,000mt per annum. This reality has made it increasingly difficult for the country to compete favourably in the LPG market and continues to miss out on the benefits of modern LPG driven technology.
Mr. Adedayo Adeshina, President of the Nigeria Liquefied Petroleum Gas Association (NLPGA) disclosed this in Lagos on Thursday at the Association's sixth annual conference and exhibition themed, LPG Revolution: The Beginning.
Adeshina said that Nigeria's domestic LPG consumption which is put at 400,000mt annually had the potential to rise to five million metric tons if the right kind of investments were introduced to catalyze interest in the sector. He noted that Nigeria's population growth of 2.8 percent annually created the potential for LPG demand to surpass its current abysmally low status.
"This is a country that produces well over 4.5 million mt of LPG which is largely exported. However, with the reduction in gas flaring and strategic investments there will be more volumes to pump into production. We should have enough gas to satisfy a five million mt local demand for the product."
The NLPGA President noted that Nigeria was replete with opportunities for investment in LPG facilities and technologies. "LPG is a very clean and versatile fuel. The opportunities that abound include storage and transmission facilities, retail outlets and LPG for power generation. The biggest LPG to power plant in the world will be installed in Ghana in the next couple of months," he said.
Adeshina added "there is also the auto-gas option which is generating plenty interest among Nigerians. Despite associated challenges, Nigerians consume 40 million litres of Premium Motor Spirit (PMS) daily, which creates enormous opportunities in transiting to LPG powered vehicles. LPG could also be deployed to heating, cooling, telecommunications services and production lines among others."
Energy Consultant, Mr. Peter Cameron of Energy Markets Global Limited stressed that Nigeria's gas policy which aims to make it an attractive gas-based industrial nation with significant presence in international markets would only be effective when the necessary steps are taken to transit the country from dependency on crude oil exports to gas-based industrialization.
Cameron noted that the public and private sectors both had crucial roles to play to ensure Nigeria transits to a gas driven industrialization era through value addition, refining and processing of LPG for local consumption and for export.
"It is a general trend around the world for gas producers and exporters to develop LPG for lower income markets and Nigeria has to be part of that trend. There is a potential demand for one to three million tons and these are very conservative figures. If Nigeria's LPG consumption were just the same as their neighbours in West Africa, we would be looking at five million tons a year," Cameron said.
It is the responsibility of the public sector to make policies, install a strong independent regulator and create the right environment to attract new entrants to the gas market. On their part the private sector drives investment and operations to make the product available to as many Nigerians as possible," he said.
Cameron lamented that gas consumption in Nigeria had remained stagnant for almost a decade and called for urgent investment steps to be taken to enable LPG take its rightful place in the country's energy mix.
In a warning he said, "With enormous volumes of LPG being produced internationally, as well as countless LPG projects coming on stream around the world, Nigeria runs the risk of finding markets for its product. The country needs to pro-actively embrace a gas-based industrialization process to turn around its fortunes in the face of the dip in the price of crude."
Engr. Dada Thomas who represented the Nigerian Gas Association (NGA) advised that investments should be targeted at the entire LPG value chain. He pointed out that ten percent of all gas produced in Nigeria is flared, 30 percent reserved for operations of the International Oil Companies, while 60 percent is exported.
"Nigeria should have 182tcf of gas. We have the ninth largest gas reserves in the world yet we are the 22nd largest user of gas. A small country like Trinidad that started with eight tcf and grew to 18tcf of gas has a huge gas based industry which puts Nigeria to shame. However, I think that the 7 Big Win initiative of the Ministry of Petroleum is meant to change that situation," he stated.
Engr. Dada advised the government to stop interfering in commercial transactions and focus on regulating technical operations and it would witness a massive influx of investors who presently view the interference as a threat to their equity.
Source:
M&P