Bishop Kukah Blames Backwardness in Education on Northern Leaders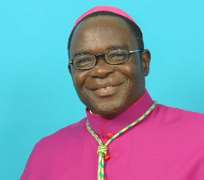 The Catholic Bishop of Sokoto Diocese, Bishop Mathew Hassan Kukah has lauded the Governors of the eastern part of Nigeria for their support for education in their zone.
Kukah who was at Nwafor Orizu College of Education, Nsugbe, Anambra state to deliver the college's convocation lecture said even though what the governors were doing may not match the United Nations recommendation for education budgets, which is 23 percent, they were still better than their northern counterparts.
Represented by Rev Fr Prof Peter Tanko, Kukah who spoke on Contemporary Challenges and Prospects of Teacher Education in Nigeria on Thursday, blamed northern leaders for the backwardness of education in their zone.
He queried a situation where a child who was sent to school to acquire education would be withdrawn by some Islamic clerics and taken to the the palace of the emir, and the child is proclaimed to have converted to Islam.
He also stated that the political leaders of the north were benefiting from the poor education standards in the north as it is easy to manipulate the citizens against anyone at the slightest provocation.
"Here, your governors are doing well, even though their budget for education is less than the recommended budget, we know that the best students in most external examinations are always coming from the east.
"We urge you and your governors to continue to give education priority attention, as it is the only way to build the society." Kukah said.
The revered cleric while speaking on the challenges facing the teaching profession laid the blame partly on the doorstep of government, saying that lack of motivation is the real reason teaching is no longer prestigious.
He said, "perhaps an even greater dislocation has occurred in the psyche of the contemporary Nigerian teacher, whose morale is now very low.
"The senseless politicization of education at all levels, the gross neglect of education in the allocation of funds and shabby treatment of teachers of all cadre have combined to rob education and the teaching profession of their pride."
He said that it is as if the tragic war has been deliberately waged against the destiny of the Nigerian people, through the Destruction of education, the very organ in which he said resides the hope of tomorrow.