Rise Networks And Ford Foundation Announce And Open Applications For The Nigerian Student Leaders Program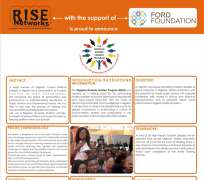 FAST FACT: A large number of Nigeria's current Political Leaders in Nigeria have antecedents of Student Politics in their School days.
We recognize the place of preparation and performance in institutionalizing Excellence in Public Service and Governance hence this is a Pilot to kick start the process of training and accountability for their possible successors.
Are you a Nigerian University Student actively-involved in Campus Politics and currently holds an elected position within your School?
Introduction/Background Information
The Nigerian Students Leaders Program [NSLP] was created as a rallying point for 20 outstanding student Leaders to receive Training and requisite skill and value based instruction with the hope of advancing sustainable Youth Leadership in Nigeria. It will also form a catalyst for repositioning youths for greater involvement in entrenching a culture of accountability, probity and sustainability in the political system and among public office holders.
Objective: To identify and equip promising Student Leaders of good character in Nigerian Tertiary Institutions with the potential for future public service with requisite Leadership skills rooted in Ethical and Effective Representation and to promote robust youth participation in Nigeria's political system.
Project Methodology
This project is designed to be a fully paid, intensive, week-long, knowledge-based boot camp that will provide trainings by reputable thought leaders in the social, private and public sectors through interactive learning experiences and cased based practical teaching that highlight the leadership challenges of Nigeria and the possible solutions that a new generation can institutionalize in the long run.
Content will cover a broad range of Public Administration, Policy and Political Perspectives.
After successfully going through this boot camp, participants will be placed on a one month internship program during their next holiday so they can get first hand, practical, on-the-field experience of best practice in public leadership
FRAMEWORK: A total of 20 high impact Student Leaders will be selected from across Nigerian Tertiary Institutions and we will cover the full costs of Feeding thrice a day, Hotel Accommodation and Return Travel for all selected Fellows who will also receive Certificates of Honor upon completion of the entire Training Exercise.
ELIGIBILITY: If you're part of the leadership of your School's Students' Union Government, Faculty Executive Council, Departmental Association's Executive Council and Hall of Residence Executive Council, then you definitely qualify for this Program. Both male and female are welcome and we strongly recommend that Female Student Leaders should apply.
HOW TO APPLY: Applications open on Wednesday November 30th and close at Midnight on Thursday December 7th 2016. You can either be nominated by yourself or another student in your School. Visit www.risenetworks.org/nslp to apply and upload your Manifesto of not more than 1000 words stating specific actions you will take to change the lives of the citizens in your locality, constituency, Senatorial District, State or Country when you get elected into Public Office. Your Manifesto must be focused and actionable. Upon Selection, Fellows must be willing and ready to attend and complete the all modules and sessions in the boot camp throughout its entire duration.
KEY DATES:
November 30 to December 7th: Call for Applications
December 7th to December 8th: Selection process commences and shortlisted Fellows are contacted by Rise Networks.
The Bootcamp will hold from December 11th through to December 17th
N.B. Only Successful and Selected Fellows will be Contacted. We are sorry, as a result of the amount of time it may take, we will not be able to respond to everyone who applies nor provide feedback on Applications.
Official Media Partner: Thesheet.ng
Media Partners: The Guardian, Bella Naija, Linda Ikeji Blog, YNaija, Olori Supergal
ENQUIRIES: [email protected]
To learn more: visit
www.risenetworks.org