Nigeria saved $15.4b this year from scrapping fuel subsidy: Kachikwu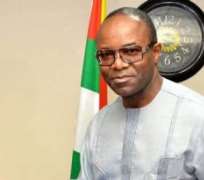 The Minister of State for Petroleum Resources, Dr. Ibe Kachikwu, has said saved that Nigeria $15.4bn as a result of the elimination of subsidy on petroleum products since May this year.
Kachikwu, who spoke  while hosting members of the House of Representatives Committee on Petroleum (Downstream) at the ministry's headquarters in Abuja on Tuesday, thanked the  National Assembly for supporting the ministry and its agencies when the price modulation template was introduced.
The lawmakers were at the ministry as part of their oversight functions.
Kachikwu, who was represented by the ministry's Permanent Secretary, Dr. Jemila Su'ara.
The ministry's Director of Press and Public Relations, Mr. Idang Alibi, disclosed via a statement that the minister stated that the price modulation had eliminated subsidies and liberalised the downstream sector of the oil and gas industry.
Kachikwu in what appeared to be review of his stewardship said Nigeria was able to sign Memoranda of Understandings worth about $80bn during his recent trips to China and India.
He also pointed up the partial resuscitation of the Port Harcourt, Warri and Kaduna refineries; repair of products' pipelines; and the resuscitation of supply of products from Atlas Cove-Mosimi-Ibadan-Ilorin after a six-year lull in his achievement list.
Others include improved crude oil supply to the Warri and Kaduna refineries and savings of $15.4bn for the Federal Government as a result of the elimination of subsidy payments for petroleum products.
In his response, the Chairman of the committee, Mr. Joseph Akinlaja, said the oil industry was the life blood of the Nigerian economy.
This, he said, was why the National Assembly and all Nigerians were interested in what was going on in the Ministry of Petroleum Resources and its parastatals and agencies.
Akinlaja said the committee members paid the visit in order to be properly briefed on the activities of the ministry in order to know what legislative support they could give for the achievement of its plans, programmes and projects.