Ibori to be extradited to London from Dubai in two weeks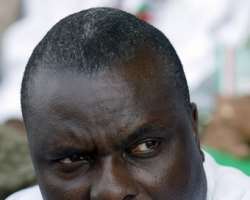 Former Delta Governor James Ibori who was arrested in Dubai, the capital of the United Arab Emirate, UAE, Wednesday night, is expected to be extradited to the UK in two weeks to face pending criminal charges, Pointblanknews.com has learnt.
Ibori whose traveling documents have been seized by UAE authorities has been released on bail, is however still in custody of UAE security officials.
Pointrblanknews.com also learnt that he would be transferred to Nigeria to face  EFCC  after his appearance at a south London court where money laundering charges are pending.
Nigeria and the United Arab Emirate, UAE do not have any extradition treaty and as such would wait until necessary paper work is filed between the Interpol and the Met Police.
Meanwhile, Chairman of the Economic and Financial Crimes Commission, EFCC, Mrs. Farida Waziri has said that the anti-graft agency is working with other security agencies such as Interpol and Met Police, UK on the possible extradition of the former governor of Delta State, Mr. James Onanefe Ibori, who was arrested in Dubai, United Arabs Emirate, UAE on Wednesday May 12.
Waziri who gave this hint while fielding questions from some journalists in Abuja on Thursday, expressed delight that the long arm of the law has eventually caught Ibori in far away Dubai.
The EFCC had in April declared Ibori wanted after weeks of several efforts to get him to honour the Commission's invitation over fresh fraud allegations including a N44 billion scam case against him. The anti-graft agency had earlier secured a court warrant for his arrest and equally put him on a watch list.
The EFCC boss explained that his arrest may not be unconnected to the search for him by Nigerian security agencies and an international warrant of arrest issued against him by the Met Police in UK.
According to her, "Yes, we have been working on the former governor. It has been confirmed that Ibori was arrested by the Interpol. We have been exchanging information and interacting with the Interpol and the met police since we declared him wanted. International warrant of arrest was also issued. Yesterday, he was arrested and he is undergoing interrogation with them there. The man in charge of his case in the UK has dispatched detectives to Dubai and we are sending our own people to join them to start the process for his extradition. We also have our cases against him here pending. That is the good news.
"We have a case against him in the appeal court Benin, the 170 count charges. We appealed, the case came up and he was not there. Two, we have fresh charges for which we want to arraign him totally different from the earlier charges. There are other charges against him which we don't want to reveal for now. As I told you, we have been working very closely but quietly with the Met police. We have been sharing information and we have issues which we don't want to go into. We are talking with the Interpol, the Met police and the Dubai police whose custody he is right now.
"My initial reaction when I heard of Ibori's arrest was that of excitement, and surprise too. Surprise because somebody said he had gone to Ghana. Some people also said he is still somewhere in Delta, some say in his Village in Warri. My mind never went to Dubai. But the Met police have a relationship with Dubai police. They told me that if he is in Dubai they will get him that it will be easier to track him down .If he had gone to places like China or Japan, and then it would have been difficult. I was very excited.
"EFCC is prepared to prosecute him without leaving any loose end. Before, we declared him wanted, of course to arraign him. We have some charges and we have witnesses and we are prepared on our side."