November 30, 2016

| Congo
Support For Demarcating The Borders Around The Congo: A Project To Be Concluded On November 30th 2016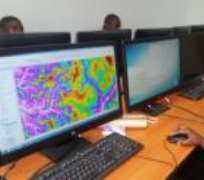 In July 2015, the Congolese Ministry of the Interior and Decentralisation called on IGN FI to support the country in its exchanges with bordering countries. This project is now drawing to a close and will be concluded on November 30th when Congolese experts and experts from IGN FI will present the project's results as well as its key lessons.
Specific knowledge of its territory is a key element for any State in defining policies on land planning and security, whether it concerns state security for its population, economic security aiming to preserve its natural resources or border security. This knowledge enables countries to avoid confrontations over territorial claims or conflicts concerning land occupation, controlling the flow of people and goods or fighting against illegal immigration and illicit trade, wildlife poaching in particular.
The issues surrounding borders remain problematic, despite being essential question for the governments concerned.
With this in mind and driven by the AUBP (African Union Border Programme), the Congolese Government has accelerated the process of delineating and demarcating its borders. It created in particular the project to delineate its terrestrial and maritime borders with support from IGN FI.
This project has provided step-by-step support to the Congolese authorities in its exchanges since July 2015, providing technical cartographic records for several disputed areas based on:
research and interpretation of old texts (as IGN still possesses numerous original documents and aerial photos relating to former French countries in Africa),
acquisition and interpretation of recent satellite images
information collected during numerous field trips.
The project has led to the creation of 18 maps targeting several sensitive areas that will be produced on several different scales and used as a basis for discussions with the National Border Committees of neighbouring countries.
In addition, a large part of the project was dedicated to legal and technical training. The training modules offered were designed so as to enhance the knowledge of personnel from the Ministry of the Interior and the National Border Committee and were also used with the CERGEC (National Centre for Geographic Research and Cartographic Production) and the National Cadastre.
Training was provided in the following areas: remote sensing, data capture from satellite images, GIS and mapping. Around 20 people were able to follow the various modules given by 7 people over a period of 7 months.