Father Mbaka backs arrest of judges, says it is supernaturally inspired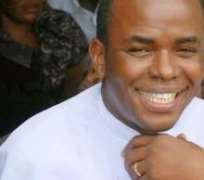 Spiritual Director of Adoration Ministry , Emene, Enugu, Rev. Fr. Ejike Mbaka, has urged the Federal government of Nigeria to arrest more judges that are suspected to be involved in corrupt practices.
Mbaka, who correctly predicted the defeat of the former President Goodluck Jonathan by the incumbent President Muhammadu Buhari in the run up to 2015 presidential election, does not shy away from controversies.
He had earlier in the year predicted a plot by merchants of evil against the life of Buhari, ostensibly because of his hardline position against corruption.
Mbaka was cited in reports as saying while speaking at the thanksgiving mass to mark the Enugu State Judiciary 2016/2017 legal year at the Adoration ground, that the arrest of some judges in October by the DSS  was supernaturally inspired.
He said, "The arrest of the judges is a supernatural brand new revolution that is going on in all dimensions, in all the three arms of government. When a revolution starts, you cannot imagine where it would reach. I urge judges to remain incorruptible or be arrested and whoever arrests them should be praised."