GUS Celeb Showdown; Showkey hopeful of victory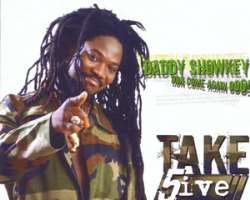 As the remaining four celebrities continue to sharpen their arsenals in their bid to emerge the Ultimate Celebrity in the maiden edition of the on_going Gulder Ultimate Search Celebrity Showdown, John Odafe Asiemo a.k.a Daddy Showkey says all odds are in his favour to emerge the winner.
Showkey has been very consistent in playing the big brother role ever since the programme started, saying that this has been his tactics and strategy and not wanting to be found lagging in his relationship with fellow contestants as well as meeting up with the daily tasks.
To underscore this fact, he took to thorough scrubbing of the cooking pot inside out, ignoring Emeka Ike's tantrums that he should be more thorough with it. Still determined to prove a point, Showkey cooked the stew. Amazed at his cooking prowess, he disclosed to others how he acquired the skill: "My mama no born woman. All of us na man,.We be four boys. How we no go learn how to cook?"
To also show how determined he was to emerge victorious, Daddy Showkey displayed another potent arsenal that says "No permanent friend, no permanent foe in the game of life".
After the game, Showkey was congratulated and the team dragged their feet back to camp. The atmosphere at the camp was very tense such that anybody could feel it. Showkey, however, broke the thaw.
"Today's task is one I don't like. It made me hurt my friends," he said, apparently in reference to the fact that he got Abass' and Princess' pots broken, which eventually sent the duo out of the Celebrity Showdown.
With the eviction of Princess and Abass from the Gulder Ultimate Show Celebrity Showdown, the road now seems clear for Daddy Showkey to renew his game plans to outwit the remaining four contestants, especially Dare Art Alade, who has shown some brilliant impressive performances so far in the show.