Hon. Danlami Mohammed Kurfi: The Katsina Rising Star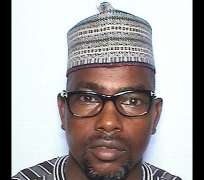 Politics they say is dirty, but it is not so when played by people with honest and caring heart; that is the story of Hon. Danlami Mohammed Kurfi. He is a name that rings a loud resounding bell in the high society, an individual with a rising profile and cerebral exploits that command respect on the floor of the House of Representatives, Abuja, where he holds sway as one of the most vocal representatives.
With a boyish handsome look that speaks volume of a background steeped in moderate upbringing, Hon. Danlami Mohammed Kurfi is as endearing to his constituents as his debates, motions and bills are convincing to his colleagues at the hallowed chamber. He is known for quality representation.
Undoubtedly, Kurfi's persona is derived from the sterner stuff of life, the compulsive need to weave enduring strands or legacies that would out-live one and the desire to be a change agent in the discharge of the social contract. A man of great patience and tolerance, his scruples border on the fundamental assumption that life is a selfless service in which there is more to gain in giving of one's time, energy and resources than in being a docile recipient of its offerings.
Hon. Mohammed Kurfi Danlami was born in 1974; he passed through the following educational Institutions: Hanat College (2004); Kaduna Polytechnic (2009); as well as the prestigious Ahmadu Bello University, Zaria. Before he delved into active politics and becoming a lawmaker, he was successfully engaged in oil and gas business and famous as an employer of labour with class at a very young age.
He was formerly Chief Whip of Katsina State House of Assembly and in 2015; he was elected into the Federal House of Representatives, where he represents Dutsin-ma/Kurfi Federal Constituency of Katsina State on the platform of All Progressives Congress (APC).
At the Federal House, he is the Deputy Chairman House Committee on Petroleum Resources (Downstream) and member of other key committees. He is one individual who doesn't let down his friends no matter what; this was what informed his significant contributions to the success of Hon. Yakubu Dogara of becoming the Speaker of House of Representatives in the 8th Assembly.
He has strong passion for the propagation of true Islamic values and beliefs, this he genuinely demonstrated by building a mosque for his community worth millions of naira. Since his inception into politics right from the State Assembly and at the National Assembly as a serving parliamentarian, records show that he is known for empowering his constituents socio-economically and ensuring that beneficiaries are dispassionately drawn from all Wards and Units in his constituency without bias.
To his credit, beneficiaries are periodically getting items like luxury buses, functional cars, Grinding Machines, Generating Sets, Vulcanizing Machines, Sewing Machines, Hair Dryers and Clippers, Farm Sprayers, Deep Freezers, Bicycles, Motorcycles and Tricycles, Transformers to aid rural electrification, healthcare equipment at Comprehensive Health Clinic at Kurfi, etc.
He also assisted many communities in refurbishing their dilapidated school structures and providing basic learning materials. Hon. Kurfi also does not ignore the widows, disabled, unemployed, orphans, and other vulnerable groups, he consistently assist them with cash gifts so that they can start small scale business and become economically independent and productive to the society. His penchant for giving to the needy in the society is phenomenal and incomparable.
Besides, the federal lawmaker paid for WAEC/NECO fees for brilliant but indigent students. He organized free summer class lessons and computer training for students. Over 20,000 free exercise books were equally distributed to school children and he as well donated thousands of free WAEC and JAMB past questions for students preparing for JAMB and ordinary level exams. He also uses his position as federal parliamentarian to reduce issues of unemployment amongst his constituents by facilitating job opportunities in both state and federal agencies.
More importantly, Hon kurfi doesn't treat with levity matters relating to child's education, he is one man who will deem it fit all quotas for his constituents into various higher institutions are accordingly utilized. His well intentioned virtue is to build human capital and capacity as well as reducing poverty and defiant behaviours among the youths who are believed to be future leaders.
While expanding his kindness and sheer benevolence, Hon. Kurfi procured special bicycles and tricycles for the disabled so as to conveniently keep them mobile, since they can't use the regular ones due to their physical state. He said his people has not seen anything yet, assuring them that he is unrepentant in serving their interest, even as he dedicates all his indelible milestones and achievements to God almighty who he said made it possible for him. Unlike others, Hon Kurfi creates open access between him and his constituents which gave him opportunity to know their needs and how to be of help.
He is one of those great and patriotic Nigerians supporting President Muhammadu Buhari-led administration especially for its avowed fight against corruption, which has been eating deep into the fabric of our dear country. For him, Nigerians could only achieve development if they supported President Buhari's anti-corruption war, and that for Nigeria to achieve speedy development, people must do away with sentiments, corruption, injustice, and abuse of office, among others.
Muazu Wrote From Dutsin-Ma, Katsina State
Disclaimer:

"The views/contents expressed in this article are the sole responsibility of

Muazu Yussuf

and do not necessarily reflect those of The Nigerian Voice. The Nigerian Voice will not be responsible or liable for any inaccurate or incorrect statements contained in this article."