Innoson Presents The Ivm G12 Series To The Nigerian Army.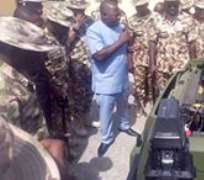 Good Morning All
Yesterday I was received by the Chief of Army Staff Lt Gen TY Buratai at the tactical headquarter of the operational base of the fight against Insurgengy aka Operation Lafiya Dole at Maimalari Barracks Maiduguri, Bornu State. I went to present our latest design of Innoson IVM G12 series wholly designed for military operations. The Innoson IVM G12 series is a highly mobile and tactical pick up van with a double reinforced shock absorber that show strength and ability to cope with military functions especially in our North-East terrain.
One major unique selling proposition that our manufacturing plant IVM offers is to produce to specific request and need of our clients. I understand that now for our military to win the war against insurgency they need a unique vehicle to operate in difficult terrain, topography and dangerous environment like the sambisa forest, and IVM being our own, we took care of special inputs during the manufacturing stage to suit their special needs and at the end we came up with the Innoson IVM G12 series. This is the least I can contribute for our President and military to win the war against insurgency at the shortest possible time.
And to the Glory of God, after test driving this vehicles in rough terrain, the Army Chief was highly impressed and they will be partnering with IVM in producing special purpose vehicles for their military operations.
I believe so much in Nigeria and I believe we need to look inwards to our gifts and potentials to move Nigeria forward. Nigeria is our own, lets make it work and support the Federal Government in their efforts to make our country great again. To God alone be all the glory.
Photo Credit: Valentine Amala Ulasi
Photo Credit: Valentine Amala Ulasi
Photo Credit: Valentine Amala Ulasi