GUS Celebrity Showdown: Weird MC Talks Tough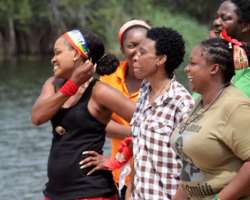 As the race to the ultimate prize in the ongoing Gulder Ultimate Search: Celebrity Showdown hots up, the last female celebrity standing in the jungle, rappertainer Adesola Idowu, popularly known as Weird MC now pitched against three men for the ultimate diadem- the Golden Goblet, has thrown up a challenge to the male contenders.
Weird MC, nfc learnt, said she is not ready to be shoved around on account of her gender.
"If you think because I am the only lady left in the jungle I should be doing all the cooking, then it is rather chauvinistic," she told the other remaining competitors.
Like other celebrities, Weird MC has confessed that she had not washed her clothes by herself in years and that her culinary skills will be tested one way or the other.
Dare Art Alade, one of the three male celebrities left in the jungle said Weird MC may not be a fantastic cook because she had not shown any zeal in that direction in the jungle but added that she would be taught how to cook.
Comedienne Princess, who was evicted along with Fuji star, Abass Akande Obesere last week, would be sorely missed especially for her cooking ability.
With Dare, Emeka Ike, Weird MC and Showkey still in the race, viewers are beginning to do some permutations on the likely winner of the GUS Celebrity Showdown.
Public opinion seems to tilt in favour of Showkey clinching the prize because of his strong Ajegungle background and for his physical strength.
But some watchers opine that there may be some surprises in the very popular weekly reality TV show.
—Funsho Arogundade