FOI ACT: 200 CSOs TO MEET NEXT WEEK ON IMPLEMENTATION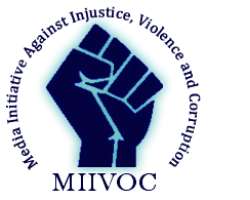 No fewer than two hundred Civil Society Organisations are to meet in Abuja and Enugu, respectively, next week on increased use of Nigeria's Freedom of Information (FOI) Act.
The 2-day Roundtables are being put together by the Media Initiative against Injustice, Violence and Corruption (MIIVOC), in collaboration with the Freedom of Information Coalition-Nigeria, with support from Justice For All (DFID). It aims at increasing citizens' usage of the FOI Act.
Participants from the Northern part of Nigeria are to meet in Abuja, while those from the Southern part of the country are to meet in Enugu.
Chairman, Board of Governors, Freedom of Information Coalition, Nigeria, Dr. Walter Duru gave the hint while addressing newsmen in Calabar, Friday.
According to Duru, the events are aimed at engaging Media and Civil Society stakeholders across the country on issues relating to increased use and implementation of the FOI Act.
"Recall that Nigeria's Freedom of Information (FOI) Act was signed into law on May 28 2011, after the longest legislative debate in the history of Nigeria. The law was passed to enable the public to access information from government and its institutions, in order to ensure transparency and accountability."
"The FOI Act aims to make public records and information more freely available. It enables citizens to hold the government accountable in the event of the misappropriation of public funds or failure to deliver public services. It also seeks to protect serving public officers against any adverse consequences from the disclosure of certain kinds of official information, and to establish procedures for the achievement of these purposes."
"Available statistics show that there is an extremely low usage of the Act in Nigeria by the citizens, especially, Media and Civil Society practitioners."
It would be recalled that recently, MIIVOC, with support from Justice for All (J4A/DFID) held a 2-day Roundtable for FOI desk officers in Federal Ministries, Departments and Agencies of government. No fewer than one hundred and fifty MDAs were in attendance at the event held at Olusegun Obasanjo Auditorium, Federal Ministry of Justice, Abuja.
Disclaimer:

"The views/contents expressed in this article are the sole responsibility of the author(s) and do not necessarily reflect those of The Nigerian Voice. The Nigerian Voice will not be responsible or liable for any inaccurate or incorrect statements contained in this article."
Articles by Chike Duru