A2Z shoots Igbo action movie… sets new car ablaze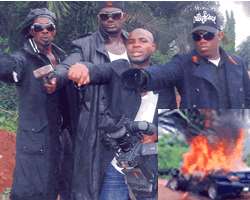 Ndi-nto (Kidnappers), a new action packed Igbo language movie is poised to thrill and serenade movie buffs within and outside Nollywood soon. From the award winning stable of Arinze Ezeanyaeche-led A2Z Production, the forthcoming flick would definitely revolutionize Nollywood in terms of storyline, costumes and high-end props. Shedding more light on the big budget movie currently being shot on locations in Delta, Anambra, Edo and Lagos States respectively, youthful Ezeanyaeche further revealed that his brand new Peugeot 406 car, was equally set ablaze and burnt beyond recognition, while shooting a dangerous scene in Asaba.
On why he's returning to movie making, after a five-year hiatus from Nollywood, Ezeanyaeche, whose stable churned out acclaimed movies such as: End of Money, Jadon, Desperate Billionaire, Awilo, Goodbye New York and several others, disclosed that he decided to stage a big come back, because of his love and undying passion for Nollywood and movie buffs. "My love for Nollywood is unrivalled. Having watched Nollywood drifting apart for so long and moving without direction, I decided to help balance and stable the industry with this new movie.
At least, it's an action packed and well scripted Igbo language movie, which I'm optimistic will help revive Nollywood as well as the already dead Igbo language movies in Nollywood. It took me five years to research on this project, which I'm very sure would take Nollywood to the next level. Our dream at A2Z Production is to always give Nollywood the best. And I can assure you that Ndi-nto, which mirrors the current insecurity in Nigeria, is a blockbuster with a global appeal and message…"
Directed by Arinze Ezeanyaeche with hi-tech production equipment; the fast paced non-stop thriller equally parade names like: Ernest Asuzu, Gentle Jack, David Nwajei and a host of others in tough-talking roles and well-directed stunts.
"Although, it was not easy, but I burnt my glittering Peugeot 406, to bring out the best in this movie. In a nutshell, it's the story of a crooked Governor who abandoned the thugs that helped him get into office… The consequences are better imagined than experienced… Expect full action when the movie comes out later this year", said Ezeanyaeche whose outfit discovered the singing duo of J-Matins and Duncan Mighty.