Rivers PDP Chairman, Bro Felix Obuah Congratulates Oba Of Ogbaland On 76th Birthday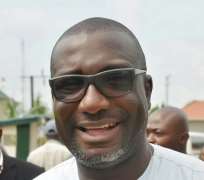 The Chairman, Rivers State Chapter of the Peoples Democratic Party, PDP, Bro Felix Obuah has congratulated the Oba (Eze-Ogba) of Ogbaland, His Eminence, Sir (Dr) Chukumela Nnam Obi 11, (OON, JP), on the occasion of his 76th birthday on Sunday, November 21, 2016.
Bro Obuah, describing the Oba of Ogbaland as a father and dependable leader of not only Ogbaland, Rivers State, but the Niger Delta and Nigeria, said His Eminence, Chukumela Nnam Obi 11 belongs to the class of Senior Citizens and Statesmen who has kept the State and the nation united through purposeful leadership and detribalized disposition.
The PDP Chairman lauded the contributions of the highly revered First Class Monarch, who he said, has become a beacon of hope and a unifying factor in the struggle for the development of the oil-rich Niger Delta region, to which he has made significant sacrifices as a security expert, career public servant and a traditional ruler who loves his people and understands their peculiar plight.
Bro Obuah rejoices with the Oba on this special occasion and prayed God to continue to grant him the wisdom, strength and good health for him to continue discharging the enormous tasks of leading and being the Chief custodian of the most revered custom and tradition of the people of the ancient Ogba ethnic nationality.
Eulogizing the fatherly roles the Oba of Ogbaland, His Eminence, Chukumela Nnam Obi 11, has continued to play to everyone, without discrimination or consideration of political leaning, the PDP Chairman reiterated his unalloyed support and cooperation to the various lofty development and peace initiatives of the Monarch.
He further assured him of the unrelenting support of the party, wishing him happy birthday and many more returns.
Congratulation Sir!
Signed:
Jerry Needam
Special adviser on media and publicity
To the Rivers PDP Chairman, Bro Felix Obuah
Wednesday, November 23, 2016