Project Fame winner, Mike, drops three singles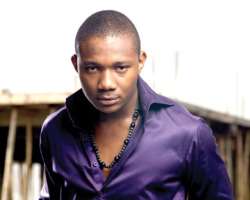 For 10 weeks last year on the Project Fame show, Mike Anyasodo stole the hearts of millions of Nigerians. Male, female, young and old instantly fell in love with the emerging star for his charm and energetic performances. He was nicknamed Boy wey get swagger as a result.
He won the Project Fame Season 2 contest, bagging the first prize of N2.5m, a 2010 Rav 4 and a recording contract.
Mike has just released three sizzling singles: Adamma, Wankoloma and of course Fine fine lady (produced by Cobhams Asuquo) and is finalising work on the album.
Mike's sound is basically RnB soul with a slight touch of reggae. His music shows his passion and is Nigerian in outlook. He says his strongest musical influences include Maxi Priest, Tuface Idibia, Fela Anikulapo Kuti, John Legend and Neyo to mention a few.
He plays the piano as well as the acoustic guitar and says even though he fully understands how competitive the Nigerian and global music industry has become, he intends to climb to the top.
"If I can do it, then every Nigerian and African child can. I got this far by fear of God, perseverance and hard work."
Since winning the contest, Mike has not changed much. He claims to be very much the same energetic, humorous and endearing boy everyone has grown to love and anticipate so much from.
Though born 27 years ago in Warri, Delta State, he relocated to Lagos to pursue his musical career, ditching his degree programme in Computer Science at the Ambrose Ali University.
He started off as a back up vocalist/song writer and later dabbled into beat making for upcoming artistes. While hustling for his daily bread, he learnt of MTN Project Fame West Africa through a friend, and raised funds to come to Lagos for the audition.
He was dropped at the final audition stage, an experience that almost shattered his belief in music and self. Stuck in Lagos, with no form of support, Mike roamed the streets feeding from hand to mouth for two weeks until he was able to raise funds to return to base.
Relentless and driven, he kept working on his vocal ability and production skills, hoping for a break which finally came when MTN returned in 2009 with the second season of Project Fame.
Mike enrolled and made it into the esteemed Project Fame Academy, having made the last 15 list.
He aspires to record classic albums in the future, sell millions of copies of his works, win musical accolades all over the world and devote his entire life to Charity and philanthropy.