HARD TIMES HIT QUEEN URE, GOES ON CAB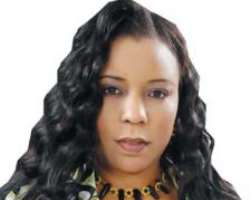 Queen Ure Okezie the estranged wife of the handsome musical act, popularly called Soul E is broke. The banker turned pastor who came into public glare when she decided to marry a younger lover, Emmanuel Okose a.k.a. Soul E and she started making news headlines before and after the relationship crumbled.
Having decided to go their separate ways, Soul E picked the pieces of his life and continued where he stopped, though, rumour has it now that he has jusr hooked another moneybags Abuja based woman who he presently stays with in Abuja. And also for the elegant queen of beauty, Ure, she got a mouth-watering offer from Centretage Saving and Loans, a micro finance bank as one of the top managers.
Barely a year she took over the mantle of leadership at the micro-finance bank, crisis loomed and the financial home couldn't afford to pay her salaries and she was asked to resigned ignominiously, though, it was a very tough decision for both parties. Her cars and other valuables were said to have been withdrawn in the process and the once-upon-a-time high-flying gal went underground parading the city of Lagos in a rented Fashola's yellow/red cab.