No one gave me a chance in Nollywood----UBAKA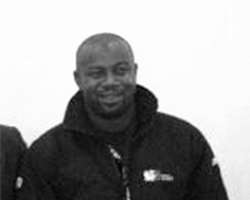 HIS story is like that of the rejected stone, which ended up being in the head corner position. The filmmaker, JOSEPH UGOCHUKWU UBAKA, did all he could to be accepted as a filmmaker in the country, but no one gave him a chance. In frustration, the Enugu-born filmmaker, whose debut feature, Trapped Dream, received the special jury prize at the 29th edition of the African Cinema Festival in Verona, Italy, left for Senegal, where he was accepted. An actor, screenplay writer, director and producer, Ubaka was born and raised in Enugu. He had his secondary education at the National Grammar School, Nike, Enugu. It was while in school that he nursed the ambition of emerging a top entertainer. Ubaka sang, danced and acted and was a regular feature of the school and most off-school dramatic, music and literary events. But it was music that appealed to him the most. The tall, well built filmmaker wanted to become a successful rap musician in the mould of L.L Cool J. So far, the alumnus of the Berlin Talent Campus, who has worked extensively outside the shores of the country and received commendation abroad, speaks with us
The AMAA 2010 nomination
Well, I am glad that the movie, Lilies in the Ghetto, made it to the very last round, which is the nomination stage. I understand that the academy received well over 500 films and for your work to get to that level and even get nominated means a lot. So, I am happy, though I was expecting that I would be nominated in the cinematography category. I think we did our best there but again, you can't have it all and perspectives are different. I mean, I looked through the list and discovered that there were some quality jobs there. So, I look forward to a good outing at AMAA, and like I said, somewhere, there is no better recognition than the one from home.
Decision to become a musician
My elder brother won't hear of it. He hollered all day and told everyone how I wanted to end up on the streets. And true, at that time, those who were musicians were not taken seriously even by the society. It was just like football then. Today, everyone is encouraging his or her ward to either be a musician or a footballer. Way back then, it was looked down upon. So, my elder brother objected and I had no option than to obey.
Living in Bondage inspired me
So, when it was time to choose a course of study upon admission, I finally applied to study Political Science at the Ahmadu Bello University, Zaria. But that decision didn't keep me away from the arts. As I took classes in Political Science, I wrote scripts and sought acting opportunities. It took the success of the phenomenal Living in Bondage -- a film that is believed to have spurred interest in home video production -- for me to rediscover my love for the arts. It rekindled my interest in the arts. It got me thinking seriously about filmmaking as a career. That was when all those things I did during my early school days came in handy.
I wrote my first film script in my second year
By the second year into study, I had a script ready. That was when I wrote my first feature screenplay titled End of the Road that has not yet been produced. The story treats the highest level of cultism in our higher institution of learning. It was my own way of campaigning against the vice. But I couldn't get anyone to breathe life into the script. So it remained with me until I left Zaria with a degree in Political Science.
No one gave me a chance in Nollywood
Upon graduation, I left for Lagos. To be relevant and to have your art aired, Lagos was the place to be. I looked out for acting and or scriptwriting opportunities but no one wanted to give me a chance. I was not known enough to pen a script to be produced or not a selling face for a movie role. Once, I had a nasty encounter with a notable producer, who in spite of the quality of my proposal, blatantly refused to understand my vision and passion for cinema. I had gone to see a so-called executive film producer in Nigeria, who had not gone to university, let alone, attending any film school; he talked me down, without knowing what I could offer. He said I was good enough to play waka pass (extra) and that I should forget about talking to him about script writing or any other thing about filmmaking. It was so devastating. I was tired of everything and I thought the best way out of it was to go train and return.
I got a break in Senegal
A year after, some Pan African filmmakers, who are resident in Dakar, Senegal, and I, created a legal film association called Filmi Gët (atelier des recherché cinématographiques). This was in 1999. It was the same year that Filmi Gët, in collaboration with Forut Media Centre de Dakar, produced our documentary fiction titled Ganaw Keur. I worked as assistant director on the set of the documentary that was selected at the festival d' film d'Amien. In 2000, I got directing and co-production credit. That was when I directed and co-produced my first short written fiction film titled Jungle Justice, in collaboration with Bureau Pan African Communication, Media Centre de Dakar and Filmi Gët. My long stay in Senegal paid off when in 2003, I was among 12 young filmmakers that were sponsored to receive filmmaking training program at the Media Centre de Dakar, under the Tutorship of Fred Rendina, an America-trained filmmaker, who has worked with HBO television station.
A year later, I was in Germany on the bill of TV5, a France based Television station. I was sent to Berlin to receive training at the Berlin Talent Campus, a major skill acquisition programme of the Berlin International Film Festival. I returned from Germany and made it straight to France for an exchange programme on filmmaking in Lile, France, under the sponsorship of Masion Jeune de la culture (MJC), Valencia, Spain. My turning point as a cinematographer came in 2003. That was when I directed and co produced my first documentary film project titled L'homme D' Gardio in collaboration with Filmi Gët and PeriPlan International Africa Film Festival in Lile, France. It was my first time experience as a cinematographer. In 2005, I signed an international co production deal for my first fiction film titled Europe by Road. The film was released in April 2008. The film came two years after I directed and co- produced my third short fiction film titled Hearth Break in collaboration with Filmi Gët and Media Centre de Dakar.
Trapped dream is my word to African Youths
My award winning Trapped Dream is a call to African youths to have a rethink as the future of Africa lies in their hands. Since the 1930s, the dream of African youths is to migrate to the western world in search of greener pasture or fabled Golden Fleece. This dream, over the past two decades has unfortunately taken a dangerous and frightful dimension. So I want them to see and learn from the movie that there is no easy life anywhere. The future of Africa lies in their hands and they have a duty to salvage it and make it a better place for everybody and generations yet unborn. Individual families, organisations and governmental agencies, too have fundamental roles to play in reversing this ugly sore festering the youths.
I look forward to doing something here
Now back home, I look forward to working on home soil. I am open to collaborations. And I am willing to contribute my quota to the growth of the development of the industry. And you see Nollywood will rise again. It is only going through a phase that other industries have gone through. It will come out of its present distressed state. I know that for sure and I hold strongly that filmmaking is a serious professional business not all comers' affair, so there is still hope for Nollywood.