Fayemi denies castigating Bola Tinubu in an interrview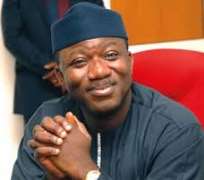 Minister of Solid Minerals Development, Kayode Fayemi, has denied a report which alleged that he castigated the national leader APC national leader, Bola Tinubu.
The minister, a former governor of Ekiti State, is believed to be among one of the new generation Yoruba leaders being used to upstage the political relevance of Bola Tinubu in the Southwest geopolitical zone.
Fayemi said in a statement  by his media aide, Olayinka Oyebode, at the weekend denied granting any interview where he cast odium at the person of  Tinubu.
The statement described the report as "highly mischievous and malicious."
"The general public is hereby urged to disregard a false report with headline : "Tinubu as a leader is responsible for his misfortunes, says Fayemi," the statement stated.
"The highly mischievous and malicious report is nothing but a tissue of lies.   It must be stressed that Dr Kayode Fayemi never granted any interview where he made disparaging comments about the person of our highly revered leader, Asiwaju Bola Tinubu.
" Dr Fayemi subscribes to the highest moral and ethical standard of the Yoruba and as such would not speak evil or seek to demean Asiwaju Tinubu or any of our respected leaders under no circumstance whatsoever.
He added, " For the avoidance of doubt, Dr Fayemi has always held and will continue to hold Asiwaju Tinubu in high esteem.
"The bond that exists between them dates back to decades of cordial relationship and no peddler of falsehood or group of blackmailers hiding under the guise of politics can put asunder."