November 21, 2016

| Ghana
Ghana Presidential Election: Fayose warns Ghanaians against accepting change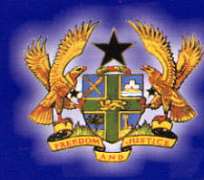 As the December 7 presidential election in Ghana draws near, Ekiti
State Governor, Mr Ayodele Fayose has counselled the people of Ghana
to be mindful of making the same mistake made by Nigerians in the 2015
presidential election by voting for change, which has brought hunger,
sufferings and economic recession to the country, such that even the
entire West African sub-region is being affected.
He said "by buying into the All Progressives Congress (APC) message of
change, Nigerians are now facing a kind of hunger and suffering never
experienced in the country in the last 30 years and Ghanaians must not
fall into that kind of trap."
Special Assistant to the Governor on Public Communications and New
Media, Lere Olayinka, said in a statement issued in Ado-Ekiti on
Sunday that Governor Fayose made this call while playing host to some
men of God from Ghana on Saturday.
The governor said; "Ghanaians should not succumb to the deceit of the
opposition party that are calling for a change of government. Rather,
they should return the incumbent President, John Mahama, who has no
doubt done creditably well to deserve a re-election.
"Ghanaians should know that the change in Nigeria brought hunger,
suffering, disregard for the rule of law as well as arrest and
detention of Nigerians without trial and be mindful of those preaching
change to them.
"Most importantly, the situation in Ghana at present is similar to
that of Nigeria. Like President Mohammadu Buhari, opposition party,
New Patriotic Party (NPP) candidate, Nana Akufo-Addo has contested the
presidency two times. This is the third time he is contesting. He is
also 74 year-old.
"In Nigeria, change is synonymous with economic recession that is even
getting to the level of depression. Even majority of those who brought
the change are now regretting it.
"Therefore, tell your people in Ghana that Nigerians are already
regretting the change they made last year, which has plunged the
country into serious economic hardship. Tell them to learn from
Nigerians and reject those preaching message of change to them. They
should hold on to the government that they have now and beware of a
change that will take their country to economic recession."